You've shown no remorse for the cowardly killing of a helpless, wounded man, judge tells 72-year-old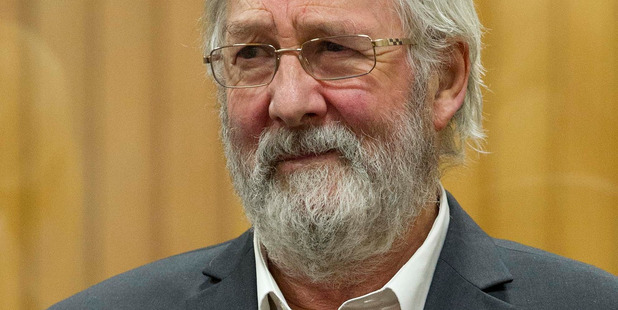 Menzies Hallett has shown little or no remorse for the callous killing of an innocent man and now he will probably die in prison, closing the country's oldest solved cold case.
In the High Court at Rotorua yesterday, Justice Ailsa Duffy sentenced the 72-year-old to life imprisonment for the 1979 murder of Turangi service station attendant Rodney Tahu.
Justice Duffy did not impose a minimum non-parole term, because in 1979, a court was legally unable to do so.
However, Hallett will in effect not become eligible for parole until he has served 10 years, she said.
Hallett was found guilty in May, almost 34 years after the murder.
He confessed to his then wife hours after the killing but the law at the time prevented people giving evidence against a spouse, so he never faced a jury.
That law changed in 2011, paving the way for yesterday's sentencing.
Last night, Hallett's former wife told the Weekend Herald that she wanted to put the issue to bed.
In court, Justice Duffy told Hallett he had shown little or no remorse for the "callous, brutal, senseless and cowardly killing of a helpless, wounded man".
Defence lawyer Paul Mabey, QC, told the judge his client had health issues and the reality was he would die in prison.
After the sentencing, Tahu family spokesman Colin Hair said that at last the family could put the case behind them.
"I think justice has finally been done," he said. "We will wake up tomorrow and start again."
There had been no winners, Mr Hair said.
"Justice is something that needs to be done; I'm not sure it needs to be celebrated."
The court heard how Hallett pulled into the closed service station just after 1am on August 16, 1979, wanting oil for his car.
Mr Tahu refused to reopen, so Hallett called him a "black b******", then shot three times.
The first shot missed but the second hit Mr Tahu in the shoulder.
Hallett then stood over the 32-year-old father of two and shot him through the head.
Rotorua Crown Solicitor Fletcher Pilditch described the final, fatal shot as "nothing short of an execution".
Justice Duffy said the best words came from the victim impact statement of Mr Hair, who is married to Mr Tahu's widow.
"He [Hallett] has had every opportunity to do the right thing, to put his hand up and express remorse, to try to put things right in some way, but he hasn't.
"Instead he has ducked and dived and done everything possible to try and avoid responsibility," the statement said.
Justice Duffy said during the trial, Hallett first accepted, then challenged, the admissibility of his ex-wife's evidence, before trying to claim provocation.
Since the guilty verdict, he had refused to talk to the writer of his pre-sentencing report about his offending, the judge said.
"Not once have you expressed any sorrow or regret for your actions to the family of the man you killed."
Mr Tahu's sister Linda Rarere read a victim impact statement on behalf of her siblings in which she spoke of the "horror" her family had gone through for 33 years.
Her brother had been a "gentleman" with a zest for life who never smoked or drank, was hard working and frugal, a natural leader, loved rugby and league and was a Saturday morning referee, played guitar in a band, loved hot rods and collecting old bottles, and loved his family.
He left a "beautiful legacy", and even nieces and nephews who had never met him tried to live up to his example.
Mrs Rarere said no one deserved to die as her brother did - "terminated as if they were nothing".
"Our family have lived for 33 years with the horror of knowing what our beautiful brother must have gone through in those final moments.
"It's a horror each one of us has lived and replayed over and over and over again.
"Our brother paid with his life and suffered the full brunt of the accused's brutal actions."