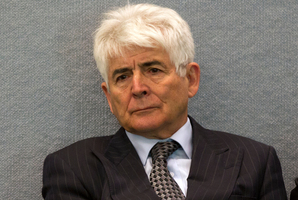 Disgraced former lawyer Barry Hart will be back in court on Monday - this time acting as a support person for a criminal defence lawyer accused of smuggling contraband to a convicted murderer and rapist in prison.
Mr Hart has been struck off the Law Society's registrar, ending his 46-year career as one of New Zealand's most high-profile criminal defence lawyers.
He was found guilty of overcharging a vulnerable family by $20,000 and two other charges.
But despite his career being over, he will be back before the bench acting in a role known as a McKenzie friend. He will be allowed to pass notes, suggest questions and provide general support to his former junior lawyer Davina Murray.
The police allege that Murray, 38, passed information to Liam Reid inside Mt Eden Prison that prejudiced the safety of a prisoner who was attacked in jail.
Murray also faces a charge of smuggling a cellphone, cigarettes and a lighter to Reid.
She denies both charges and says she has been acting as his lawyer.
Crown prosecutor Anna Longdill has opposed the application to have Mr Hart in court, claiming the move would be contrary to the interests of justice. She also opposed the application because the court was being assisted by lawyer Charl Hirschfeld who is acting as an amicus, a person not directly engaged in a case who advises the court.
It is understood that the decision to allow Mr Hart as a McKenzie friend could be revisited before Monday's hearing gets under way.
Murray is a practising lawyer and once worked for Mr Hart. She appeared at his tribunal appearance to give evidence in his defence.
It is understood Murray has sought to call Reid, a convicted rapist and murderer, and murderer Nathan Fenton as witnesses.
Reid is serving a 23-year sentence for raping and killing deaf woman Emma Agnew in Christchurch in 2007, and the rape, attempted murder and robbery of a 21-year-old student in Dunedin nine days later. Murray is also calling Arthur Taylor, who was jailed for seven years over a prison P-ring.
The Crown opposes the prisoners being in court on the grounds of safety and cost, and suggest they give evidence by an audio-visual link .
- APNZ