Funeral business in liquidation but his wife starts new one in Otara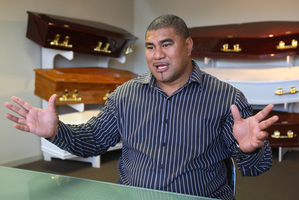 Va'aiga Tuigamala says he was sold a lie that his stellar rugby career would translate into a successful business career.
The former All Black earned well over $1 million during a decade-long, trail-blazing professional career in rugby union and league. But after ploughing his money into two failed business ventures, it's understood he has lost virtually all of his earnings.
Tuigamala said he lacked professional skills when he retired from rugby in 2002, and had to learn through painful errors.
"Someone sold me a lie that you will be successful in your business because you were a successful rugby player," he said.
"I've learned that that is not the case.
"You might have all the passion and desire but you don't have the right set of skills. I had to go back and learn that over the years."
His funeral business, Tuigamala & Sons, has been placed in liquidation, owing around $100,000.
But his difficulties began in 2011, when his New Lynn gym Plantation Health and Fitness went bust. They wanted to improve the health of Polynesian people after seeing too many young Pacific Islanders - including Tuigamala's father - die far too young.
He and his wife invested "too much" of their money.
When membership of the New Lynn gym failed to take off, he fell behind with the rent and the landlord locked them out.
"With all the passion and desire to see changes, it doesn't equate to a successful business.
"People might say I might be a bit naive but I've always had a desire to serve my people."
The flow-on effects of the gym failure, and Inga's inability to say no to people, led to Tuigamala & Sons being placed in liquidation.
He has had to sell all of his property interests, including his Glen Eden family home, and now lives in rented accommodation.
Tuigamala said he had been "too gracious" in the funeral business.
"It's a tough position to be in simply because people are very vulnerable during that time. You're trying to work with them, and unfortunately over the years I've given too much grace. I'm not one to turn people away in their time of need.
"You're left disappointed. But there are some good lessons that have come from this. I'm not going to be feeling sorry for myself."
The Tuigamalas have set up a new funeral business, Peaceful Funeral Services, in Otara, South Auckland, a move that hasn't gone unnoticed by liquidators.
Tuigamala's wife, Daphne, is the sole director and shareholder. Liquidator Derek Ah Sam, of Rodgers Reidy, said he was looking into whether the new business venture would break so-called phoenix laws, where a new venture rises from the ashes of a liquidated business.
Tuigamala played 19 tests for the All Blacks - and earned the nickname Inga the Winger - before signing to play for British rugby league side Wigan in 1993. When rugby union turned professional in 1996, he signed for London-based Wasps before clinching a contract with the Newcastle Falcons for around $2.2 million over three years, then a world record.
With most of that money gone, Tuigamala's fate has matched that of his cousin, boxer David Tua, who also lost all of his earnings after a successful sports career.
But Tuigamala refuses to be despondent, and doesn't want any pity.
"You're only a failure if you get knocked down and stay down.
"My passion to help my community and my people still burns fire in my belly.
"You've just got to crawl your way out. That's something I have learned about from my experience in rugby."