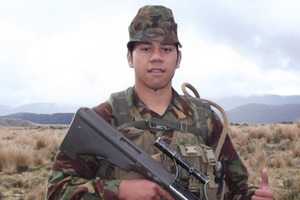 Caleb Henry's final hours were not filled with the promise and determination he'd spoken to relatives about. He'd planned on a shift home, of one day being a father and looked forward to spending time with friends.
Instead, he died inside a stolen Ford Ranger from a bullet fired by police, whom he led on a cat-and-mouse chase across the upper North Island.
In an online tribute his cousin Veronica Herewini said she didn't know what caused him to commit a violent home invasion and then shoot at police. They'd spoken only a couple of weeks earlier where he'd discussed returning home to the Far North.
"We talked and said you were gonna settle down have yourself a baby ... I will forever miss and have you in my heart my cousin we all love you so much."
The 20-year-old former soldier had always wanted to be a "GI Joe" and longed to fight overseas.
But a lack of discipline cost him and he was discharged from the army in 2012 without being deployed overseas.
In the months after he left the army he told friends he was working as a bodyguard in Auckland.
He also told one man he served in Afghanistan - an untruth that was uncovered when an associate realised it couldn't have been true.
"He sent me a Facebook request so I accepted it. Then I started looking at the dates of photos ... he had told all of us that he had been on duty in Afghanistan."
The man told a friend, who also knew Henry, what he'd found.
"I said to him that he was full of shit 'cause the dates of his Facebook entries meant he didn't have enough time to be in Afghanistan."
Not long later he discovered Henry had been trespassed from the Gisborne office of the New Zealand Army.
"Then I met this guy here that runs the army here. I asked him about Caleb.
"He had a photo of him in his office because he had been done for trespassing. Caleb had told me he was mates with this guy and yet this guy couldn't stand him and warned me about him."
His former principal at Gisborne Intermediate School, Bruce Topham, had observed the efforts Henry had made.
"He had a troubled background but really turned his life around.
"Caleb was a kid I spent a significant amount of energy giving help and support to overcome his challenges."
He left the school to attend the McKenzie Residential School in the South Island to get help with his behaviour.
"When he returned to Gisborne, all indications were that he was on a solid road and making good decisions."
But the trouble wasn't over.
Henry had warrants out for his arrest, and was wanted in relation to the fraudulent use of documents. The warrants were issued in the Gisborne District Court but charges had not been laid against Henry.
Maude Maxwell knew him well. There were times he lived with her family after Henry moved to Opotiki in his early teens to live with an aunt who was related to Mrs Maxwell's husband.
"If he was in trouble he should have come to me," she said this week.
"This was a boy who would always call me if he was down, but he never called."
She conceded the Caleb she knew was different than the one who others knew.
In the time he lived with her he obeyed her rules and always showed respect, occasionally going to church.
"He never, ever came across as aggressive ...
"He was quite a humble fellow; he talked a lot and laughed a lot."

- Additional reporting Gisborne Herald