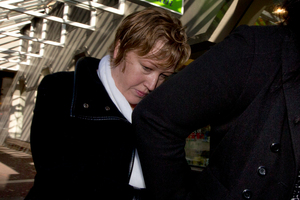 A judge yesterday refused to sentence a woman who stole nearly $450,000 from a prominent Auckland couple, saying he was biased because he knew the victims and would send her to prison.
Alexandra Ruve Clare Holland, 39, admitted systematically defrauding $445,643 from Carter Bloodstock - owned by Auckland Arts Festival chairwoman and former city councillor Victoria Carter and lawyer John Carter - over two years from 2010.
Holland is a recidivist fraudster who was convicted in 2005 of stealing $67,875 from her former employer Coca-Cola Amatil.
She then got a job working as Mr Carter's secretary and stole from the business by hiding cheques among large groups of documents waiting to be signed. She would later bank them in her own accounts.
The Carters claim Holland used the stolen cash to fund a lavish lifestyle, including her wedding which they attended.
Holland appeared in the Auckland District Court yesterday for sentencing.
The Carters arrived at court prepared to read victim impact statements and were "gutted" to find the hearing would not go ahead because they knew the presiding judge.
Judge Graham Hubble said it was "regretful" that the sentencing couldn't go ahead. He had tried to find an alternative judge but there was no one available.
"I have known the victims for many years. I can't possibly adjudicate on this matter, I'd be entirely biased," he said.
"I'm sorry ... I'm biased on this matter and I'm not prepared to sit on it. Your client has problems ... I can tell you now she'll be going to prison if I'm sitting."
Holland will now be sentenced on September 27.
It is unclear when Judge Hubble realised he had a conflict of interest.
"We found out 10 minutes before the hearing was due to begin," Mrs Carter told the Weekend Herald.
"It does seem absurd that a conflict of interest only gets discovered on the morning of the hearing when we are all emotionally prepared and hoping for a conclusion to what has been a long and drawn-out process."
She said the delay was unnecessary.
Holland hid behind her lawyer Greg Bradford, who told a photographer to "f*** off", when approached outside the court.
Crown Solicitor Simon Moore QC said the adjournment was not unusual.
"The occurrence of judges disqualifying themselves occurs a good deal more often than the public might expect. This is because, even in a city of 1.5 million people like Auckland, it is still a relatively small place and there will always be times when participants in the criminal justice system, whether judges, jurors, witnesses or victims, will know each other," he said.
"The legal test in New Zealand for recusal is whether a fair-minded lay observer might reasonably believe there is a real possibility that the judge might not bring an impartial mind to the question to be decided. It is not necessary to show actual bias. It's enough if there is a real risk of apparent or perceived bias. In my experience it is rare for a judge to declare that they would be actually biased because the law does not require that level of certainty."
Mr Moore believed Judge Hubble had acted appropriately.
"It is perfectly reasonable where a real risk of apparent bias arises for the judge to step aside even if both the prosecution and the defence consent to the case going ahead."
Mr Moore acknowledged the adjournment was inconvenient for the victims and a waste of time and money.
"Obviously, in a perfect world, early notice of a potential disqualification is preferable. But often, despite the best efforts of everyone concerned, the sort of connection which would justify a judge recusing themselves might not become obvious until the 11th hour and, sometimes, during the actual trial.
"While this is costly and inconvenient in terms of time and energy, that inconvenience must be subservient to the interests of justice in ensuring that justice is not only done but manifestly seen to be done."
District Courts director of community engagement Sonja de Friez said it was unclear when Judge Hubble realised his conflict of interest.
"Judges are obliged to recuse themselves where there is any risk that they may decide a case without an impartial mind, or on a basis other than the legal and factual merits," she said.
"The law has established certain thresholds to be met before a judge must recuse themselves. Minor or trivial matters do not warrant recusal. However, the obligation to recuse one's self is taken very seriously by judges as it is part of their judicial oath to decide cases impartially. It also preserves the right of every person before the courts to have their case decided independently and impartially."