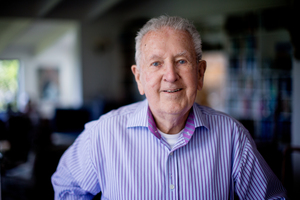 Ray Richards: February 1, 1921 - July 1, 2013
Ray Richards was a modest man who made a significant impact on New Zealand publishing. In 1936, aged 15, he began as an office boy in the Wellington office of AH & AW Reed. After war service he returned to Reeds, where he became editor, publisher and vice-chairman during the company's golden years, with books such as Mona Anderson's A River Rules My Life selling more than 100,000 copies.
Long-time friend and colleague Geoff Walker said Richards and Reed basically invented the commercial publishing culture that exists today. The publication of New Zealand stories by local authors was relatively unknown until Richards and the unstoppable Reed publishing train came along.
In 1976, the implosion of Reed, combined with the death of daughter Meredith, saw Richards and his wife, Barbara, move to Auckland. He was 56 when they set up Richards Literary Agency, which eventually represented about 100 clients, including Maurice Gee, Witi Ihimaera, Tessa Duder and Joy Cowley.
During World War II, Richards was one of a handful of Kiwis to fly with the Royal Navy Fleet Air Arm and he was awarded a Distinguished Service Cross (DSC). In 1945, when firing at a Japanese gun emplacement from his Corsair FG-D1, an enemy bullet hit the small area of heavily reinforced windshield in front of his face. He felt he had been given his life that day.
Ray Richards was thoughtful, observant and decisive, with a mind that fizzed with a love of life and people. "He lived in the moment, loved the thrill of new experiences and looked forward to new adventures," said daughter Bronwyn Richards.
About 400 people attended his funeral at the Devonport Naval Base on Friday last week. They represented New Zealand's literary world, business colleagues, family and friends.
Fittingly, the funeral was full of well-told stories. Geoff Walker spoke of Richards' long publishing career, Commander Jason Haggitt read from his account of wartime life.
Ihimaera said, "You were a true rangatira and we have been proud to belong to your tribe of writers."
He then led the singing of Pokarekare Ana - a love song for Barbara to honour their 64 years of marriage.
Daughters Bronwyn Richards and Nicola Wallace and grandsons Andrew and Alistair Wallace spoke of the father and grandfather whose adventurous spirit was a highlight in their lives.
Ray Richards was awarded the NZ Booksellers' Lifetime Achievement Award (2001) and the Betty Gilderdale Award (2004) for his "unique visionary presence in the growth of New Zealand children's literature". In 2006, he was made an ONZM for his contribution to New Zealand publishing.
He is survived by Barbara, Bronwyn and Nicola; grandchildren Aimee, Aaron, Andrew and Alistair; sons-in-law Jay and James; and great-grandchildren Brooklyn and Spencer.