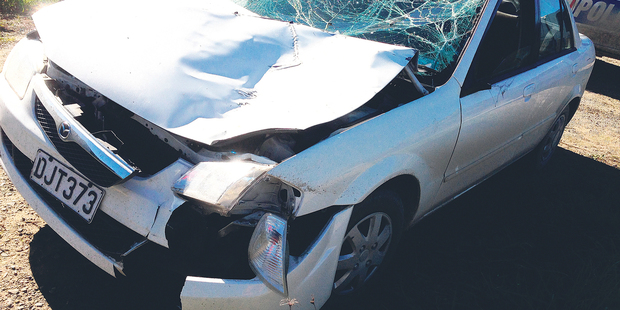 A heavily pregnant woman driving to hospital in case she went into labour had to complete the journey by rescue chopper after her car collided with a cow on the East Coast.
Bryar Ward, 21, and her partner Bryson Saddlier were driving to Gisborne Hospital along State Highway 35 when they hit the animal north of Tolaga Bay last weekend.
Ms Ward suffered only minor injuries but was flown to hospital for a check-up because of the advanced state of her pregnancy.
"We were on the way to hospital because of the possibility of me going into labour," she said.
The cow was in a group of cattle on the highway. Ms Ward and her partner, who live in remote Tokomaru Bay, were hoping for compensation from the owner because their car is too damaged to drive.
"I'm due to have my baby any time now and we no longer have any transport. We cannot afford to repair it or replace it.
"Police have told us they have spoken to two farmers in the area but neither farmer is able to help us. We are quite gutted by the whole thing."
"Yes, we lost our car, but we could have lost everybody in it too."
Ms Ward's mum Theresa Nesbit said her daughter and partner have to pay a tow charge of $300-$350 to get the damaged car to Gisborne.
They could not afford insurance because they are surviving on one wage - shepherd Bryson's salary.
Mrs Nesbit said her son-in-law did everything possible to prevent an accident and protect her daughter on impact.
"But the cows were black, it was about 9pm and they were on top of them before he could do anything to prevent the collision.
"At a time when my girl should be just focusing on the imminent birth of my grandchild, she is now having to try to organise a vehicle.
"We are trying very hard not to get into the blame game, but the simple fact is, those cows shouldn't have been out on the road, day or night.
"They did cause an accident that could have been much worse than it was, and now there is a little family expecting a baby - with no vehicle.
"They will definitely need one once our baby is born."
Ms Ward said she was very relieved to come through the accident without serious harm to herself or her baby.
"My baby is fine. That's the main thing."