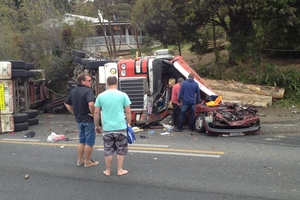 David Terence Thomas can't remember what happened in the few seconds his car veered across State Highway 1.
But the seconds that followed were devastating.
A southbound, fully-laden logging truck swerved to miss Thomas' northbound car on the southern side of Lookout Hill, near Whangarei, causing the truck to roll and land on another northbound car, killing the passenger, 26-year-old Saphron Jane Greenfield, and injuring her fiance Nicholas Brown.
Thomas pleaded guilty to careless use of a motor vehicle causing death and another of careless use of a motor vehicle causing injury on November 12 last year.
In the Whangarei District Court this week, 76-year-old Thomas was sentenced to 100 hours' community work on each of the charges, to be served concurrently, and ordered to pay Mr Brown $7000 reparation for emotional harm. Thomas was disqualified from driving for a year.
Ms Greenfield's mother, Maryanne, told the court her daughter had worked very hard at university to become an optometrist.
She described her as a kind, sweet, intelligent girl.
"She will have no more tomorrows and I will have no more tomorrows with her.''
Reading a letter to the court, Thomas said he was sorry and remorseful he had caused so much pain and admitted full responsibility for the crash.
"If I could change what happened I surely would. I know what it's like to grieve, as people my age normally do. I constantly regret what happened on that day and will for the rest of my life.''
Thomas had been driving for more than 50 years and had a blemish-free record. He had no recollection of what happened on the day but there was no medical explanation for it, lawyer Michael Powell said. Thomas had not driven since the fatal crash and vowed he would never drive the stretch of road where the crash happened.
Police confirmed neither speed nor alcohol were factors in the crash.
Judge Greg Davis said an "unexplained'' action by Thomas had led to horrific consequences.
"Nobody knows how or why the car drifted across the centre line.''
He said Thomas had written a heartfelt letter apologising to Ms Greenfield's grandparents.
Judge Davis said the courts saw plenty of letters of remorse but there were very few that moved the court as this one had.
Thomas had pleaded guilty on his first appearance and saved the family the harrowing experience of having the case prolonged in the court process, Judge Davis said.