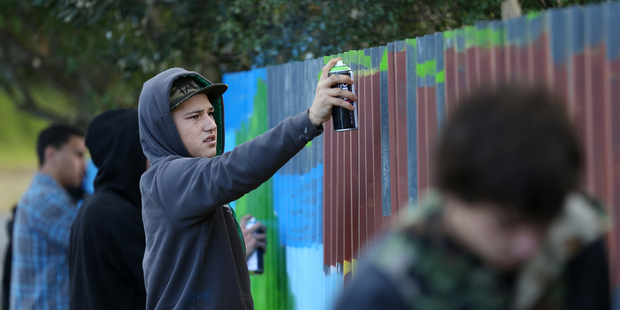 A 17-year-old youth caught tagging has taken part in a restorative justice programme by spray painting a mural on a fence.
Te Puna's Te Arahi Wilson was caught tagging a number of times but instead of serving a traditional punishment he wanted to use his art to change people's perspective of graffiti.
Wilson took part in the restorative justice programme with Tauranga City Council and Western Bay District Council in which he put his talents to use by spray painting a mural on a Borrell Rd fence in his home suburb of Te Puna.
Wilson, who would not say how many times he had been caught, said he wanted to start a project that was positive towards graffiti art.
"Everyone thinks graffiti isn't a positive type of art, it's got a bad rep. I wanted to change everyone's minds and how they think about it. We're just artists in our own eyes," he told the Bay of Plenty Times
He talked to Tauranga City Council graffiti prevention officer Jane Denton about his idea which involved other youths.
"We thought 'what can we do for the community to give us a good name and give people a different impression of us?'. Hopefully this will pull it off and everyone will like it."
Wilson said he hoped to involve the councils in a project that would allow positive graffiti around Tauranga and hopefully stop young people wanting to do tagging on the street.
"It's not getting anyone anywhere getting caught tagging so hopefully this will work. I've been caught a few times but I'm not going to stop what I do because I love it. I never had the opportunity to show my art so I had to go out on the streets. "Everyone treats graffiti like the people are criminals but if it was just another art, people would let me do it and that's why I want to change it."
Julie Shepherd, of Pirirakau Incorporated Society, a local hapu organisation which is working to get young people to do constructive things for the community, said the society was involved in a collective approach with both councils to reduce tagging.
Wilson had realised he could work with these people and identify sites they could legally display their art, she said.
"We're trying to change our kids' attitude towards tagging. We're going through the process of securing sites with both councils," Ms Shepherd said.
Western Bay district councillor Gary Webber said the council was working to find ways to get younger people involved with the community.
"This is just one way we're trying to get young people involved in the community while also adding value to the community they live in. They are talented rascals, if we can put their talent to good use it's better for everyone."
Tagging facts
Tauranga ratepayers pay on average $16,250 a month to remove tags and 324 people were apprehended in 2011.
- Figures as of December 2012.
For more articles from this region, go to Bay of Plenty Times