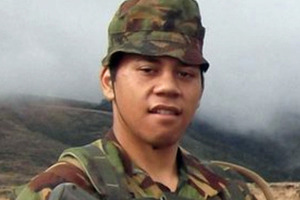 The death of former soldier Caleb Henry in a shoot-out with police on Auckland's Northern Motorway has rocked his friends, family and former teachers in Gisborne.
Caleb's former principal at Gisborne Intermediate, Bruce Topham, was numb when he heard the news about Monday's dramatic events.
"He had a troubled background but really turned his life around - Caleb was a kid I spent a significant amount of energy giving help and support to overcome his challenges."
Mr Topham said Caleb attended the McKenzie Residential School in the South Island to get help with his behaviour.
"When he returned to Gisborne, all indications were that he was on a solid road and making good decisions."
Mr Topham said Caleb had visited him since he moved to Christchurch as Halswell School principal.
"He was out at Burnham and visited me in my office at school. He was very proud of what he was doing. The way he talked to me that day, I would have bet my bottom dollar his troubles were behind him."
Caleb did not have the "easiest of starts to life" but Mr Topham feels the primary school system no way failed him.
"Some teachers went out of their way to help him overcome his challenges."
His main problem was that he just did not have the mechanisms when things went wrong to account for his actions, Mr Topham said.
An old friend of Caleb who did not want to be named said he was "no angel but he was a good young man".
Caleb would come to see him when he was in Gisborne.
The man said Caleb's roots were in Northland but he called Gisborne home.
Caleb was in Gisborne only three weeks ago. His brother lives and works in Gisborne also.
"He had many friends here," his friend said.
"He was into waka ama . . . he didn't drink - he would have one beer and be the sober driver and he didn't do drugs. I just don't know what has gone wrong."
A small memorial service was held for Caleb this week at Te Wananga o Aotearoa, attended by about two dozen people, predominantly members of the waka ama fraternity.
Caleb competed for the Horouta waka ama club and has been described as a paddler with a lot of potential.
"He was very passionate about it," a senior club member said.
"Caleb made a real impact on people. He was a very charismatic person and touched people in lots of different ways," she said.
"People who spoke of him at last night's service said while they did not know him well, he made an impact on their lives.
"He was a very funny person, a hard worker, was easy to please and a very helpful person," she said.
"We wish we could have done more to help him. The signs were there but we didn't pick up on them.
"As whanau, we all need to be a little more vigilant and discerning when it comes to the state of mind of our young people."
A lot of youth frequented the waka ama club and the club used the whanau connection, the physical element, to help the kids stay out of trouble, she said.
"We obviously didn't quite reach Caleb enough.
"He had just achieved his VHF radio licence and was really chuffed about that.
"He had so much to live for, it's very sad what has happened to him."