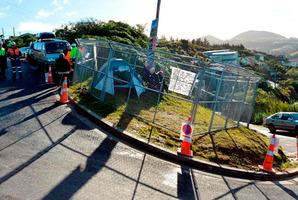 Brighton residents occupying a planned 2degrees cellphone tower site face a standoff with the company after the Dunedin City Council ruled out issuing a trespass notice against them.
And the group also won support from Labour Dunedin South MP Clare Curran - the party's communications spokeswoman - and members of the Saddle Hill Community Board yesterday.
The latest developments came after 2degrees corporate affairs and wholesale director Matt Bolland contacted the council on Wednesday, seeking a trespass notice to remove the protesters.
The land was council road reserve but utilities legislation gave companies such as 2degrees the right to use it if required.
However, in a letter to Mr Bolland yesterday, council chief executive Paul Orders ruled out a trespass notice.
He said both sides had a "legitimate right" to use the land but the occupiers were engaged in a lawful and peaceful protest.
There were no safety concerns that would justify a trespass notice, and police agreed there was no "legitimate reason" to remove the group, Mr Orders said.
The council had provided all information needed by 2degrees to allow use of the site and there was "nothing further that the council is required to do under the law in relation to this matter", he wrote.
A copy of the letter was released to the Otago Daily Times following an official information request yesterday.
Brighton residents moved on to the site on Monday to block access for contractors arriving to install the tower. They brought with them the essentials of a long stay: a flued 44-gallon-drum barbecue, tarpaulins and a tent and a portable toilet.
And, with the refusal of police and the council to remove them, Saddle Hill Community Board chairman Keith Mcfadyen said the situation was now a standoff.
"2degrees just continue to refuse to communicate and discuss the matter further," he said.
Members of the public had spoken in support of the protesters at yesterday's board meeting and Mr Mcfadyen planned to write to the company on behalf of the board to try to resolve the matter.
The board wanted the company to consider alternative sites again, and had offered to "facilitate constructive dialogue" in an effort to help.
How long that would take was "in 2degrees' ballpark, really", he said.
Ms Curran said she also had contacted the company to discuss the situation, without success, and was studying legislation in the hope of finding a solution.
The standoff highlighted the problems created by utilities legislation when both sides were "equally adamant" and the council was left "powerless".
"2degrees appears to be, at this point, intractable, although I don't believe anything is intractable."
2degrees external communications manager Charlene White, asked about the company's plans, would only say the company "respects people's right to protest" but the site was the "only option" for its Brighton customers.