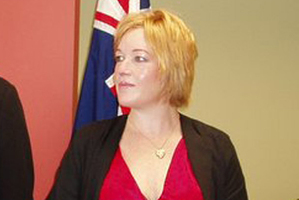 A woman who stole nearly $450,000 from a prominent Auckland couple could not be sentenced as planned today as the presiding judge knew her victims.
Alexandra Ruve Clare Holland admitted systematically defrauding $445,643 from Carter Bloodstock - owned by Auckland Arts Festival chairwoman and former city councillor Victoria Carter and lawyer John Carter - over two years from 2010.
Holland, 39, worked as Mr Carter's secretary at the law firm and systematically defrauded the business by hiding cheques, which she would later bank in her own accounts, among large groups of documents waiting to be signed, according to a court summary of facts.
Mrs Carter believed the stolen cash was used to fund a lavish lifestyle for the Kohimarama mother and her husband, including their 2011 wedding which the Carters attended.
Earlier this year the Kohimarama mother-of-two pleaded guilty to cheque fraud and appeared in the Auckland District Court for sentencing this morning.
However the hearing was adjourned until September due to Judge Graham Hubble's "conflict of interest". He has known the Carters for many years.
He said he would be "biased" if he were to sentence Holland, and unlikely to consider her "problems".
It is not the first time Holland has been before the courts for fraud. In March 2005 Holland, nee Meinecke, was convicted of stealing $67,875 from Coca-Cola Amatil, where she worked. She was sentenced to 200 hours' community work.