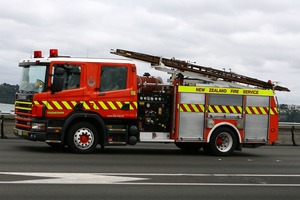 A woman was just moments from death when she was rescued from a house fire in Invercargill early this morning, one of the firefighters who saved her says.
Emergency services were called to the fire in an old single-storey villa on Princes St at 2.46am.
Invercargill Fire Service senior station officer Gordon Rodgers said they heard a scream from inside when they arrived.
Firefighters managed to get in through a back door, but by the time they got to the woman she was unconscious.
They dragged her out and performed CPR until ambulance paramedics arrived.
She had regained consciousness by the time she left for Invercargill Hospital.
Mr Rodgers said there was no doubt the woman would have died if firefighters had not arrived when they did.
The fire, which was in the living area, was not particularly large but had caused a large amount of smoke which clogged the house and overwhelmed the woman.
It was being treated as suspicious and police were investigating.
There was also a man inside the house at the time who had managed to get out before firefighters arrived.
He was distraught but unhurt, Mr Rodgers said.
There were no smoke alarms in the house.
- APNZ