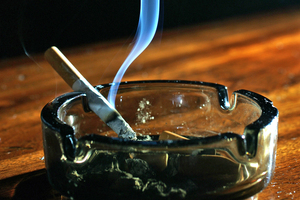 New Zealand's target of having fewer than 5 per cent of the population smoking by 2025 could go up in a puff, with researchers saying all of the country's smokers would need to immediately start trying to give up.
Based on the country's current rate of quitting, it will take "generations" to arrive at a smokefree society, according to a study by the University of Auckland, published in the New Zealand Medical Journal.
Just over 16 per cent of the adult population - 726,825 people - smoke.
The Auckland University researchers analysed data from a smoking prevention trial, Keeping Kids Smokefree, which was conducted from 2007-2010 in what the university described as a low socio-economic, multicultural area of South Auckland.
Nearly 3100 participants responded to follow-up surveys for the study.
Just over a third of those wanting to give up used cessation products or advice, the study said.
"Furthermore, there was a notion amongst some that smoking addiction was a myth, or just a habit, and that if smoking is not really addictive, then an external intervention such as a medication or a stop smoking service could not be of any assistance," it said.
Other barriers included concerns about the safety and side effects of treatments, particularly the risks of overdosing on nicotine, the research said.
"Of our ... smokers in New Zealand currently, we would need every smoker to attempt quitting once a year if we were going to reach our goal of 5 per cent or less smoking by 2025," the study's co-author Marewa Glover said.
This is based on the theory that it takes some people multiple attempts before they stay stopped for good.
The goal was not impossible though, if further restrictions on tobacco were put in place, such as limiting the places where it could be bought, she said.
Health Promotion Agency general manager of operations Laurianne Reinsboroug said in order for the Government to achieve its 2025 smokefree goal, it would first have to reduce the smoking prevalence to 10 per cent by 2018.
Quitline chief executive Paula Snowden said the country needed to up its game if it was going to reach that 2025 target.
"We need the environment in which tobacco is sold to be strict, controlled, priced, all the branding and marketing opportunities removed from it to make it an unattractive product."
People also needed to quit in groups, rather than individually, she said.APNZ
- APNZ