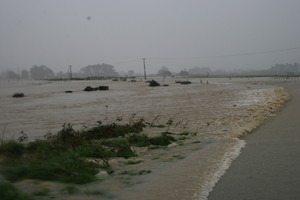 July 11 - A woman who became trapped in floodwaters near Napier made a lucky escape after being rescued by a local farmer this morning.
The woman's station wagon became swamped as she tried to cross a flooded ford on Makahu Rd, Puketitiri.
Emergency services were alerted to the incident, about an hour's drive from Napier, about 8.30am.
The Lowe Walker Rescue Helicopter was also dispatched.
Police said the woman was standing outside her car in knee-deep water, but was unable to move because the current was so strong.
By 9am, the water had risen to her waist.
A local farmer with a tractor rescued her a short time later, police said.
Earlier reports indicated the woman had climbed onto the roof of her car before being rescued.
Police have warned motorists to avoid driving through flooded areas, especially rural roads and fords where water depths were not immediately obvious and could change rapidly.
- APNZ