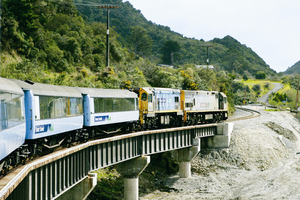 KiwiRail has been accused of "gouging foreign travellers" by not offering discounted prices to anyone booking overseas on the Tranz Alpine.
Australian travellers Jason Liddell and Carla Heffernan have been travelling around New Zealand for the past two weeks and wanted to include a trip on the famous train.
The couple had tried to book tickets in Australia and the cost for a return trip was $378 each.
"That's a lot of money when you're trying to travel," Mr Liddell said.
After investigating, they discovered a blog telling them to book when they were in New Zealand because it was cheaper.
When they arrived in the country and made a booking, they were able to get one way tickets for $99 each.
"It is our opinion that KiwiRail is deliberately gouging foreign travellers, to the detriment of Greymouth and Christchurch tourism."
Mr Liddell's parents had recommended the trip, but he said they would have avoided it if they had not acquired the cheaper tickets.
"The trip is great, it's just hard to justify $756 for a trip."
Mr Liddell did not think it was fair to charge travellers so much more, especially if that was the market KiwiRail was trying to attract.
Backpackers travelling the country would be put off by such high prices, he said.
The Tranz Alpine was down by about 8000 passengers for the year ended June, compared to the same period in 2012.
Mr Liddell questioned whether the pricing could have contributed to the decrease in passenger numbers.
The Greymouth Star tested the claim that cheaper fares weren't available for overseas purchasers by using a proxy to hide a computer's IP address (an address for a computer that identifies its location). It found that the cheaper ticket options were not visible to people on overseas computers. Only a Flexi Fare of $189 from Christchurch to Greymouth was visible (as of Thursday).
This was also confirmed by other individuals trying to book tickets from overseas, contacted by the Greymouth Star.
KiwiRail acting general manager passenger David Shepherd said they offered the special fares to "stimulate the local tourism and travel market in New Zealand".
The cheaper fares came with a range of restrictions; they are all non-refundable and non-changeable, the number of seats available is capped, as is the period of the promotion and the actual travel period.
Mr Shepherd said the cheaper local fares were not always offered.
"These special, domestic market fares are usually on offer during winter, when passenger demand is lower."
He said this was a practice used by other tourism industry businesses.
"This is not dissimilar to other travel and tourism operators including airline companies and hotel chains which also offer tactical short-life restricted promotional fares and rates versus their standard fares."
Mr Shepherd said the Tranz Alpine and KiwiRail's other scenic services were world class tourist attractions and their standard fares reflected that.
"They are comparable or cheaper than European, Canadian and Australian scenic train journeys."