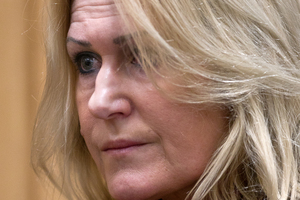 A Rotorua massage therapist who drove into two cars and two pedestrians near a busy morning market was so drunk it was a surprise she could even stand, a court has heard.
Janine Mathie, 45, was sentenced in the Rotorua District Court yesterday to four months' home detention after she earlier pleaded guilty to driving with excess breath alcohol causing injury. She was also ordered to pay $5000 emotional harm reparation to her victims.
Judge David Ruth said Mathie drove through a roundabout near the Kuirau Park market about 11.20am on Saturday April 27. She lost control and crossed the centre line, hitting a stationary car. She continued on and struck a parked car before hitting two women walking on a grass verge. They were pinned up against a fence surrounding a hot pool.
Chandrika Roland, a 52-year-old visitor from Auckland, suffered nine fractures to her legs and a severed leg artery. She required surgery and extensive treatment in Auckland Hospital. Her sister suffered minor injuries.
Mathie recorded a reading of 1881 micrograms per litre of breath, more than four times the legal limit of 400.
Judge Ruth noted Mathie also had a 2010 drink driving conviction, with a reading of 1603 micrograms.
"You are an alcoholic. You are a danger on the road and you need to be kept off the road for as long as legitimately possible," he told her.
He rejected her explanation to police she had drunk just two glasses of wine that day.
"That's nonsense. What were they - buckets? You don't get this drunk on two glasses of wine," he said.
"How you were able to stand let alone be able to drive a motor vehicle is beyond my comprehension. You had no right to be anywhere near a motor vehicle."
Mathie's lawyer, Brian Foote, said his client could not explain why she had driven and had little recollection of events.
He said she had drunk "a lot" with friends the night before and had been to a champagne breakfast that morning.
She was extremely remorseful and had offered to make $5000 reparation, he said.
"This event has rocked her to her core," he said. "She is a professional person used to giving health and wellness to people, not [causing] massive injury."
In sentencing, Judge Ruth said Mathie had avoided a prison sentence by a "relatively fine margin".
As well as the home detention and reparation he disqualified Mathie from driving indefinitely and ordered she hold a zero alcohol licence for three years if disqualification was lifted. He also ordered Mathie not to have an interest in any car for the next 12 months - her vehicle was written off in the crash. Her home detention conditions included not to consume alcohol or drugs and to undertake an alcohol and drug programme.
For more articles from this region, go to Rotorua Daily Post