Chairman and patron say allegations of Hawaii assault have no effect on their positions on violence probe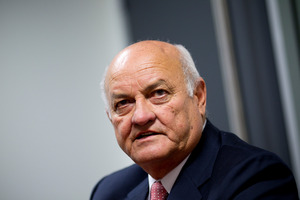 Court documents outlining new details of the alleged assault case against Sir Owen Glenn have emerged - but it has not deterred the two top figures of his inquiry into family violence.
The Glenn Inquiry's board of governance chair Bill Wilson, QC, said he had not seen the court documents but had "no reason" to doubt Sir Owen's account of the incident.
"I would obviously have regard to anything else that was said to me in terms of oral evidence or documentary evidence ... but at this stage I see no reason to doubt [Sir Owen's] position."
Papers from Hawaiian courts relating to the 2002 case obtained by the Herald show Sir Owen was arrested in the early hours of October 10, 2002, and posted the US$1000 bail bond himself. He was soon released to appear a week later at a Family Court hearing, charged with intentionally, knowingly or recklessly physically abusing a woman and thereby committing an offence of abuse of family and household members.
A former personal assistant filed an assault complaint against him while the pair were in Honolulu, attending a dinner for a rugby team Sir Owen sponsored.
A declaration by his Hawaiian attorney, Michael Jay Green, said Sir Owen entered a deferred acceptance of no contest plea to the assault charge in the third degree on October 7, 2003. The Family Court granted the motion to defer and further proceedings were deferred for six months.
As of April 29, 2004, Sir Owen had not been convicted of any crimes, and on August 4 that year a judge threw out the case.
After the allegations of abuse became public Sir Owen spoke out denying any assault occurred. He told Campbell Live his former assistant "dropped her claims" and the case "never went before a judge".
Yesterday he repeated his public statement. "For the last time - I have never hit or abused anyone. I was expanding my business in the States at the time and knowing I was innocent of this charge I left Hawaii and my lawyer at the time dealt with it all. I took the advice he gave me as I was not familiar with US law. My understanding was always that the charges were dropped. Whatever the court documents say, I stand by my interview ... on Campbell Live and I declare yet again I have never hit or abused anyone."
Former Governor General Dame Cath Tizard yesterday said she had agreed to remain as the inquiry's patron.
"My view has always been that his personal affairs are not what I'm involved in. But ... the issue is the ongoing public credibility on what he believes in."
She had a "very reassuring" three-hour meeting with the board on Monday. The board would meet on Wednesday to decide on the future direction of the inquiry.
Asked whether Sir Owen's name could be removed from the inquiry, Mr Wilson said there was "no way" this would happen. He also ruled out handing the inquiry over to an independent institution - a recommendation made by former think-tank member Dr Annabel Taylor, who has resigned.
The board expected a review of the inquiry's safety standards to be ready for Wednesday's meeting. It was sparked by safety concerns for survivors of domestic violence giving evidence to the inquiry and could influence whether there were more resignations from members of the inquiry's think-tank. At least 14 of the 25 original New Zealand think-tank members have quit after the safety concerns and allegations against Sir Owen surfaced.
Think-tank member Nicola Atwood said Sir Owen's public explanation of the alleged assault was commendable and "a step in the right direction".
She said the allegations were a "red herring" and a "side issue", but acknowledged that some changes might be required to restore the inquiry's credibility.
A member of Sir Owen's team confirmed that the $2 million in funding he had provided remained secure, and he was considering a greater contribution.