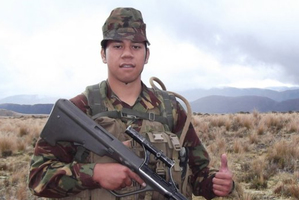 Police have not ruled out the possibility that others may have been involved in a series of incidents that ended with a former soldier being shot dead on Auckland's Northern Motorway.
As whanau gathered for the tangi of 20-year-old Caleb Dean Henry yesterday, police were continuing a scene examination around the Waiotahi property of Alan and Anne Looney.
The well known farming couple were tied up and had their hands slashed by Henry after he forced his way into their home on Sunday night, before fleeing with their Ford ute and a rifle.
There has been speculation around the Opotiki community that others known to Henry may have been involved in the incident, or in a police pursuit through the Bay of Plenty and Waikato that ended when Henry was shot dead by police.
Police told the Herald yesterday that while no other offenders were seen at the Looneys' home, and no arrests had been made, the possibility of others being involved was not being ruled out.
"It's all still part of an active investigation and certainly only one person was in the vehicle at the time it was stopped - and obviously we'll just keep working through it," a police spokesman said.
Henry's tangi was being held this week at Piki Te Aroha Marae at Okaihau, Northland.
It comes after two dozen people attended a small memorial service for the one-time soldier at Te Wananga o Aotearoa in Gisborne, where Henry spent much of his life and a brother still lives.