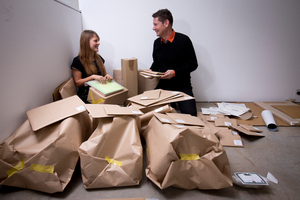 Aucklanders have the chance to get their hands on some free art - lucky dip style.
Eighty-five contemporary artworks will be wrapped in brown paper and handed to the first people to attend the Art for the People exhibition at the Auckland Art Gallery between 2pm and 5pm today and next Thursday.
Auckland University of Technology postgraduate visual arts students Evan Woodruffe, 47, and Catherine Ellis, 22, are behind the project which includes photography, sculptures, painting and prints by past and present AUT students including Mr Woodruffe, Ian Jervis and Monique Jansen.
"I thought we should give the art back to the people," said Mr Woodruffe, a celebrated oil painter.
"There are two reasons for that, one is slightly cynical in that is traditional art really valued any more? It's hard selling art so we thought, well, let's just give it away.
"But the other side is not so cynical and looking, in a subversive way, at getting art into someone's house - let's give it to them.
"Let's get it into their house and after they have lived with it for a while they might think 'well, I really like that, maybe we should get out more often and maybe buy some art'."
It also took away any financial incentive for buyers hoping to on-sell, he said.
"I didn't want anyone saying 'ooh, this is by so-and-so, I can take it off to the auctions and get a couple of hundred for it'.
"I didn't want to turn it into a monetary advantage for the public, I wanted it to be about them living with art for art's sake."
Pieces will include a "beautiful" slice of concrete and a camera carved from wood, and were all of very high quality, Mr Woodruff said.
Art for the People will run in one of Auckland Art Gallery's labs as part of the 5th Auckland Triennial, New Zealand's international visual contemporary art exhibition.
It runs until August 11, and Art for the People is part of a three-week time slot designated to AUT students.