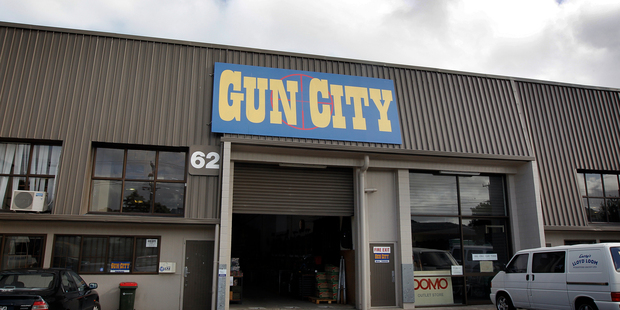 Police want to speak to a mystery water meter reader who visited an Auckland gun shop the day 25 firearms were stolen.
On the night of July 2, thieves jimmied open a door at Gun City, Mt Roskill, and snatched an array of high-powered weapons including shotguns, bolt action rifles with silencers and scopes as well as semi-automatic weapons.
Detective Sergeant Mike Williams said police wanted to know the identity of a man purporting to be a water meter reader who visited the store earlier that day.
He did not present any identification and no one from Watercare had been assigned to read the meter.
There was no CCTV in the shop so the only description police had of the man was from a staff member's recollection.
"With no CCTV footage in the store or nearby it's difficult for us to establish who was responsible," Mr Williams said.
The man was described as European in his 60s, about 188cm tall, of medium to solid build with short grey hair and glasses, wearing a blue polar fleece top.
Mr Williams said there must have been more than one person involved in the robbery.
"One person couldn't carry 25 firearms," he said.
"The alarm was activated but they got in and out quicker than the response time of the security company obviously."
Police did not know why such a large quantity of firearms was taken, but whatever the reason, it was very concerning.
"Who knows what motive they have for stealing firearms. It's obviously not for hunting, I can tell you that much, but that's about it," Mr Williams said.
"We're living in an age where, unfortunately, criminals are arming themselves with weapons and firearms more regularly than they used to, so it's always concerning."
Investigators have previously said it appeared the offender knew what they were looking for.
They expressed concerned that security around the Carr Rd shop was not as robust as it could have been.
Anyone with information about the man was urged to contact Mr Williams on (09) 213 8495.
- APNZ