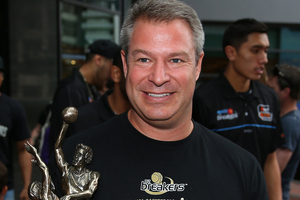 Do you know more? Contact the Herald here.
Breakers coach Dean Vickerman says he feared for his life as he and his two brothers-in-law waded into a raging flood to help rescue stricken passengers in a bus accident that claimed the lives of two children in Samoa.
Vickerman and his extended family were travelling back from a family reunion at the tiny village of Tufutafoe on the island of Savai'i on Saturday when the bus in front of theirs rolled over when attempting to cross a flooded ford.
Around 25 passengers were tipped into the torrent, sparking a frantic rescue effort.
"Me and my two brother in laws jumped straight out of the bus and bowled down to see what we could do," Vickerman said.
"We were just trying to drag as many people out as we could."
Many of the passengers were washed straight into the nearby sea, while others clung together in groups before the rescuers plucked them out one by one.
"As you jump into the water there is that kind of thing in your mind about not being that guy who rescues someone else but loses their own life," Mr Vickerman said. "But once you got into it and worked out the current you started to feel like the worst thing that could happen was that you'd get dragged out a little bit further."
The Vickermans didn't find out until several hours later when they took a German woman to the hospital that two girls, aged 12 and 5, had drowned.
The Samoan Observer newspaper confirmed the deaths, and reported that several other passenger were treated for serious injuries.
Samoan authorities are not certain how many people were aboard the bus and have not ruled out the possibility that others may have drowned.