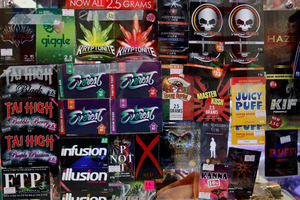 Rotorua's mayor and the police are joining forces to stop liquor outlets selling legal highs, saying those that do will have their liquor licences revoked.
Mayor Kevin Winters said he was putting all the district's liquor outlets on notice that "if they want to sell party pills and synthetic cannabis then we will deem these businesses unsuitable to hold a liquor licence, and their licence will be revoked".
When asked by the Rotorua Daily Post if it was legal to revoke the liquor licences for selling party pills or synthetic cannabis, Rotorua District Council regulatory services manager Neven Hill said a legal precedent had been in place since 2007.
He said there had been cases in Manukau where liquor licences had been revoked after they were found to be selling party pills.
"We've had a couple of inquiries from licensees in Rotorua. We provide them with a copy of the decision and tell them to have a read and make a decision.
"What we're saying is that if they decide they want to continue in that space they would have to front up to a judge. A couple have asked about it but they've decided to go no
further."
Yesterday Mr Winters said legal high products were "a scourge on society, and need to be driven from our district".
Tomorrow the Psychoactive Substances Bill will have its third and final reading in Parliament and is likely to come into force next week.
The law allows for these products to be sold but under stricter conditions, including licensing and manufacturers having to prove there are no harmful effects.
Rotorua police Inspector Ed Van Den Broek said police did not know how many shops, including liquor outlets, sold party pills.
"We have a pretty good idea for some shops, because they advertise it, which lets us know as well.
"But others may be much more discreet about it so they don't attract attention and rely on word of mouth. Under the new legislation all shops selling this stuff need to be licensed so we will know who is selling."
He said people affected by these products had come to police notice on a regular basis over the past six months.
"We've seen extreme behaviours including aggression, hallucinating and unconsciousness.
"Most people affected by these products are taken to hospital for medical treatment".
For more articles from this region, go to Rotorua Daily Post