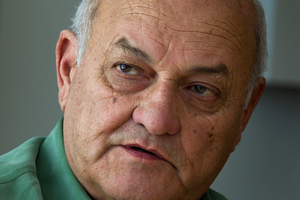 New details have emerged of Sir Owen Glenn's criminal case in Hawaii more than a decade ago in which he was accused of assaulting a woman.
Many of the New Zealand experts have quit the $2 million Glenn inquiry into family violence following several issues, most recently over claims Sir Owen assaulted a woman in Hawaii in 2002.
Court documents from the Hawaiian courts obtained by the Herald show Sir Owen was arrested in the early hours of October 10, 2002.
He posted the US$1000 bail bond himself, and he was soon released to appear a week later at a Family Court hearing.
He was charged with intentionally, knowingly or recklessly physically abusing the woman and thereby committing an offence of Abuse of Family and Household Members.
A declaration by his Hawaiian attorney, Michael Jay Green, says Sir Owen entered a deferred acceptance of no contest plea to the assault charge in the third degree on October 7, 2003.
The Family Court granted the motion to defer and further proceedings were deferred for six months.
As of April 29, 2004 Sir Owen had not been convicted of any crimes, and on August 4 that year Judge Reynaldo D. Graulty threw out the case.
Sir Owen told Campbell Live last night the accusations were fabricated by the American woman who was his former personal assistant to extort money.
He said she re-ignited the claim 10 days ago hoping for another payout.
"I employed her as a personal assistant ... She came down to Australia to meet my family, she babysat my grandkids et cetera."
They agreed to meet in Honolulu while a rugby team Sir Owen sponsored played there, and the incident unfolded after a team dinner.
"At roughly midnight I said 'look, I'm tired, I've had enough'. I went back to the hotel and she said 'oh, I am also tired'.
"On the way to the hotel she said 'I need to go up to a pharmacist and get some headache pills' and so she got out of the car, I just went back to the hotel and went to bed."
Two Hawaiian policemen knocking on his door at 1.30am said the woman had filed an assault complaint against him and took him into custody. He was released on bail the next day. The woman dropped her claims, and the case never went before a judge, he said.
"There was subsequently no case to answer. If both parties agree there is no case to answer, it's no contest," he said.
Last night, Sir Owen said the women then filed a lawsuit against him for unfair dismissal.
"She was a case of extortion, I said I wouldn't pay her out," he said.
"But [the employment mediator] said 'look, have a small settlement, whatever I can get it down to' so I agreed to that in the end only because of the length of time and the harassment etcetera, but I only paid that strictly - and it's in the court papers - for payments of her psychiatric bills."
The settlement was $80,000 as opposed to the $300,000 she was seeking.
Sir Owen has been criticised for not disclosing the incident to those involved in the inquiry.
"Nothing happened, I didn't see the need [to tell the inquiry]. Why would I tell them about something that never happened? I got a parking ticket, want me to tell you about that?"
Trouble within the inquiry started in May when founding director Ruth Herbert quit over concerns about ensuring the safety of survivors of violence who were willing to tell their stories. Five experts quit soon after, followed by 10 last week.
Sir Owen said last night he would continue the inquiry.
- NZ Herald and APNZ