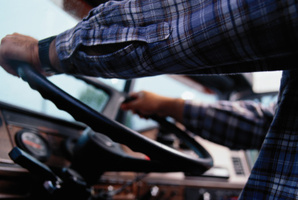 The mystery of why an experienced truck driver plummeted 20m off a Kaingaroa Forest road is unlikely to be solved, a coroner has warned.
However questions raised at an inquest in Rotorua yesterday prompted coroner Tim Scott to request more information on the safety of the steep gravel forestry road and whether it could be improved.
Murupara's Victor Ripia, 49, died on July 24 last year after his logging truck and trailer unit, carrying 66 tonnes, went off the side of the No 6 road about 8.20am. It fell 20m into pine trees below. Logs went through the truck's cab and crushed Mr Ripia, who died at the scene.
Sergeant Tony Bennett told the inquest Mr Ripia had worked for Trojan Logging for five years. He was familiar with the No 6 road, and had already driven it once that morning.
Mr Bennett said the brake on one wheel of the trailer was not working at the time, however the truck would still have been able to stop if travelling at low speed.
Other than that, the truck was in good condition, he said.
He said, "driver inattention" was the most likely cause of the crash, however what caused that inattention was unknown. Drugs and alcohol were not factors.
The coroner asked Mr Ripia's partner about the days leading up to the crash and the possibility he could have fallen into a "micro sleep". She replied he had a quiet weekend and had been to bed as normal the night before he crashed.
Senior Constable Sam Barrett referred to a report compiled by Timberlands Ltd, who manage the forest, containing complaints from other drivers about the No. 6 road.
He said it was considered dangerous by many, particularly after rain.
The coroner asked Timberlands representatives present to make a submission about that within the next seven days. However he made clear he did not consider the road to be the cause of the crash.
"But it may be there are things that could be done that might make the [road] safer in the the future."
He warned those present he would not guess as to what happened.
"There are various theories... he might have been distracted, might have been a micro sleep, brakes or steering might have failed - but none of those things appear to be probabilities," he said. "The more I think about this the more I come to the view that it is likely I will not be able to conclude why this crash occurred."
Mr Ripia's brother Donald Ripia said his family did not want to lay blame but wanted to prevent future accidents in the forestry industry.
A tearful Arleen Tanirau, of Trojan Logging, said she hoped the coroner's report would give closure to all involved.
"It's something that would allow Victor to rest. It will allow you the family to move on with your lives and us as well."
Mr Scott reserved his findings, which he said were unlikely to contain adverse comments about anyone.
- Rotorua Daily Post
rdp gf
- APNZ