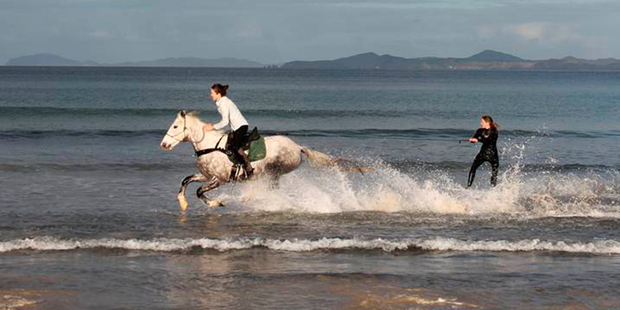 Stories making headlines around the regions include the unusual combination of wakeboarding and horses and angry Papamoa Coast residents who want their gates back.
A love of horses and wakeboarding has seen a Northland equestrian duo combine raw horse power with the exhilarating watersport.
Gates blocking traffic access to Papamoa's Coast subdivision have been removed by the council after a resident threatened legal action.
A brazen thief distracted staff and stole money from a young Greytown boy's fundraiser for his sick grandfather.
The couple who were attacked by Caleb Henry have said they need time and space.
Richard Snook has been sentenced to home detention after he was caught filming up girls skirts with a hidden camera.
Liquor outlets that sell 'legal highs' may get their license revoked.
A man who took more than $60,000 in money and vehicles shook his head as he was sent to jail this week.
Dunedin students will attempt to set a world record at Forsyth Barr Stadium for the Illuminate Paint Party.
Ohakune woman Marguerite Bishop was the first New Zealand woman to ascend Aoraki/Mt Cook.
Beer connoisseurs will sample the best at the inaugural Dunedin Craft Beer and Food Festival.
Whoever stole the lifebuoy and throw line from Blaketown had better hope that police find him before angry West Coast fishermen do.
And finally the Auckland SPCA is overrun with rabbits.
Other stories making headlines around the regions today are:
Locals divided on plan to fill in bay for ramp.
Big dry to all wet - what next for the Bay?
Pupils raise $121 for sick youngster.
Truckie death perplexes experts.
Minister seeks answers over identity theft.
Two blazes keep fire fighters busy.