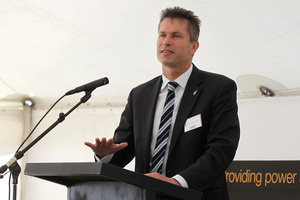 Internal Affairs Minister and Napier MP Chris Tremain has requested a report into how a British killer managed to obtain a New Zealand passport issued in the name of a severely brain-damaged Hastings man.
British-born Simon Hennessey was 14 years old in 1978 when he killed his 72-year-old aunt in a frenzied attack at her home in Plymouth.
Twenty years later, in 1998, he escaped from Gloucestershire Prison and made his way to New Zealand, where it is believed he had links to the Hastings area.
Hastings man Robert Eric Jeffery was in full-time care at a home in Hawke's Bay when Hennessey was arrested using a passport in his name on the Sunshine Coast in Australia three months ago.
Yesterday, Mr Tremain told Hawke's Bay Today the case should be looked at in perspective, with the number of passport fraud cases per year often in the "single figures".
"In this particular matter I have asked for a report on it, but normally it's an operational matter." He said he did not know how Hennessey had managed to receive a passport issued in the name of Mr Jeffery, who has never had a passport and has been in permanent care since a 2005 car accident left him with a serious head injury.
Even if a person attempting to commit passport fraud obtained their victim's birth certificate there were a range of other checks the department went through, Mr Tremain said.
"They need to have taken significant steps to have taken the details of an individual that they can use themselves."
He also did not believe there were issues within the department's policy and procedures in light of another case in 2004 in which two Israeli citizens suspected of being Mossad agents were caught trying to fraudulently acquire a New Zealand passport using the identity of a cerebral palsy sufferer.
"We can have all the checks and balances in the world, there will still be the odd fraudulent passport that is issued."
Three months ago Don Jeffery, Robert's father, received a call from the Department of Internal Affairs to say someone had been taken into custody on the Sunshine Coast with a passport in Robert's name.
Mr Jeffery was told they couldn't tell him the name of the person arrested or even what he had done wrong as it would be a breach of his privacy.
Police confirmed at the weekend they had seized electronic items from a Hastings house they said was linked to Hennessey. It was not known how often Hennessey had stayed in the Bay through the years.
For more articles from this region, go to Hawkes Bay Today