Uncle of ex-soldier says officers who killed him had a job to do and relatives are not angry.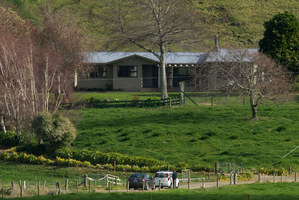 The family of a former soldier shot dead by police on an Auckland motorway say they are not angry and do not blame anyone for the 20-year-old's death.
Caleb Dean Henry died in a shoot-out with police on the Northern Motorway in the early hours of Monday. Seven hours earlier, he forced his way into the home of Opotiki couple Anne and Alan Looney, tying them up and slashing their hands before stealing their Ford ute and a rifle.
Henry, who joined the army in 2010 but was discharged in 2011 for disciplinary reasons, fired at police at least three times as they chased him to Auckland.
As he drove, at a moderate speed that gradually became slower as road spikes were put in his way and his tyres were pounctured, he spoke to officers on a cellphone saying he wanted to visit his grandfather's grave in Kaikohe.
Police said yesterday that Henry's death was not a suicide but would not give further details, including how many times he was shot and where, or how many officers fired.
Henry's mother and other family members met police yesterday.
His uncle, William Henry, told the Herald they hoped to get some answers, but did not hold anyone else responsible for the death.
"We haven't even thought that far ahead. At the end of the day, they [the police] have got a job to do," he said.
"The way the family are looking at it, if you're going to brandish a gun around, you've got to expect the worst. I don't think there's going to be any problem with the police. I don't think we're going to blame anybody. If there's a person to blame, obviously he's dead."
Henry's mother had rushed to New Zealand from her home in Perth.
"She's a bit cut up about it ... she's a bit upset," said Mr Henry.
"He will be coming home to Rahiri [near Kaikohe]. He's getting buried next to his grandfather."
Mr Henry said his nephew did not have mental health problems as far as he knew. The police source also said there was nothing to indicate he was mentally unwell.
Investigators were waiting on the results of toxicology tests to see if Henry was under the influence of drugs or alcohol.
"He was telling me he wanted to come to Auckland and find a job," Mr Henry said. "He wanted to stay with me and I said that would be okay, but he had to get a job first. You can't just go mucking around, I told him.
"I'm just glad no one else was hurt. Our feelings go out to the people who he home-invaded, I just don't know where that came from. I didn't think he'd ever do something like that."
Opotiki woman Maude Maxwell knew Caleb Henry for seven years and told the Herald she regarded him as her own flesh and blood.
What had caused him to snap remained a mystery to his friends and whanau, she said.
"The Caleb I knew wasn't anything like what happened on Sunday. It's truly out of character."
Victims: We're traumatised
The Opotiki community has rallied around home invasion victims Alan and Anne Looney, who say they have been left traumatised by the attack.
The farming couple, who received deep cuts to their wrists after being tied up in their Waiotahi Rd home by 20-year-old Caleb Dean Henry on Sunday night, were last night recovering after being discharged from hospital.
"We feel really traumatised by what has happened," they said in a statement. "We are very simple people leading a very simple life and find it hard to comprehend that something like this could happen to us."
They asked for space and time to come to terms with what had happened to their family and Henry's.
"We expect his family are going through a trauma of their own."
Opotiki Mayor John Forbes said the Looneys had the support of the community,, and many people would be offering help, from transport to home baking.