Flaxmere College head says award is recognition of work by 'school community'.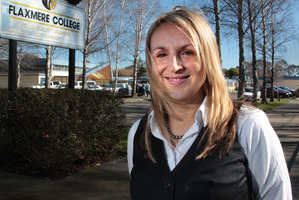 She may be the principal, but Flaxmere College head Louise Anaru shies away from the word "leader".
Ms Anaru has been awarded a Sir Peter Blake Leadership Award for her work at the school, which she has led for the past three years.
Asked how it felt to be recognised as a leader, she admitted being "whakama" or slightly embarrassed to be given such a title.
"I was really embarrassed, to tell you the truth. I don't feel it's just my success, but ours as a whanau and school community."
Having worked for years in schools where there was a majority of Maori and Pacific Island students, she decided to apply for the position of principal at Flaxmere College in 2010.
The school has slightly more than 300 students, with 74 per cent Maori, 20 per cent Pasifika and the rest European and other ethnicities.
She is credited as the person who has helped to transform what was once seen as an underperforming low-decile school by implementing a new system based on leadership.
Under Ms Anaru's leadership, students who struggled to achieve are given extra attention and encouragement to do better in their studies. As a result, the school's NCEA achievement rates have doubled since 2010 and are increasing each year, across all senior levels.
"It's cheesy, but I wanted to make a difference - that's all. I just saw the school and thought that I might want to help to make a difference," she said.
"I wanted to make sure that all our kids reached their potential."
Ms Anaru felt she had achieved much of what she wanted to when she started at the school, but is hoping to do better in the years to come.
Being able to provide for students who were sometimes labelled by society and who often came from difficult backgrounds was a big reward, she said.
"Just seeing the students having pride in terms of who they are and having high expectations of themselves and also the teachers having high expectations of their students.
"I believe that all students should get a quality education and a good chance regardless of the school that they're at," she said.
Blake Leaders
This week the Herald profiles this year's six Blake Leaders
Tomorrow: Disabilities advocate Minnie Baragwanath.