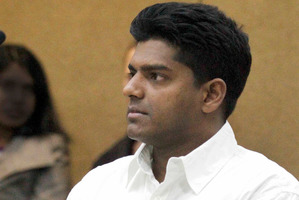 Overstayer Thuvan Prawesh Sawal cut the throat of a fellow Sri Lankan and ordered a terrified friend to mop up the bloody mess, a court heard today.
Murder co-accused Viraj Alahakoon said he was woken in the early hours of February 23 last year by Sawal shouting, covered in blood, and holding a knife.
Their friend, Canterbury dairy farmer Sameera Chandrasena Battelage, sat dead on a chair with a pool of blood at his feet.
After Sawal "feverishly" wiped down Mr Battelage's farmhouse on Domain Rd, just outside Oxford in North Canterbury, he then torched the house using petrol, Alahakoon said.
Alahakoon, 35, said he was "paralysed", and 24-year-old Sawal told him to go outside and start the car.
There was a "huge explosion" and the house became engulfed in flames, he said.
"This is the last of Sameera," Alahakoon claims he was told by Sawal as they drove away to dump the bloodied clothes and cover their tracks.
The dramatic evidence came on the 12th day of the pair's High Court murder trial in Christchurch today.
Both accused blame each other.
The Crown says Mr Battelage's neck was stabbed or cut six times before his body was doused in petrol and set alight.
Earlier, the court heard that Alahakoon and Sawal had visited Mr Battelage on the night he died to confront him over an affair he was having with a woman they knew.
Sawal allegedly told Alahakoon he would "somehow make this whole problem go away".
They had been drinking at Oxford Working Mens Club before returning to Mr Battelage's rented property.
After drinking more vodka, Alahakoon says he had a bad headache and fell asleep in the lounge.
The subject of the affair had not been discussed before he dozed off, he claimed.
Next thing, he claims Sawal woke him, holding a knife in his right hand, and his t-shirt was covered in blood.
"I tried to stand up but I felt paralysed," Alahakoon said.
"Again he shouted and ordered me to help. After that I shut my mouth and started to sob. I cried out loud."
Defence counsel Pip Hall QC asked Alahakoon where Mr Battelage was, and he replied he was sitting on a chair.
"I couldn't, I didn't look."
Sawal then "wiped everything down", Alahakoon said, before he noticed a petrol canister.
"Prawesh told me, 'You need to go to the car and wait for me'."
Alahakoon said Sawal dumped bags in the car before returning to the house.
"After a while there was a huge explosion all of a sudden," Alahakoon said.
"At the sound, I turned and saw Prawesh running and getting into the car.
"He said, 'Go, go, go, keep going'."
Mr Battelage's badly charred body was found by firefighters later that morning.
Asked directly by Mr Hall if he was responsible for his Oxford Cricket Club teammate's death, Alahakoon began weeping.
"I did not kill Sameera. I did not do any harm. I wasn't involved in Sameera's death in any way."
The trial, before Justice Christian Whata, continues tomorrow.
- APNZ