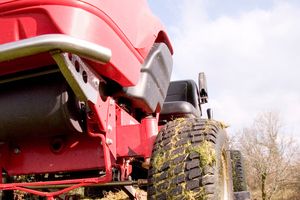 Police believe burglars who broke into Masterton's Makoura College made their escape on a stolen lawnmower.
The caretaker's shed was broken into over the weekend and the college's red ride-on mower was taken.
It was worth about $7000 and was no more than a year old.
Makoura College principal Tom Hullena said the theft was "very disappointing".
"It's concerning, any form of theft, but particularly [from] schools because schools are really, in my view, a community asset, so they are there to benefit the whole community. When something is stolen from the school, it affects the whole community.
"They are not really just stealing from the school, they are stealing from the whole community," Mr Hullena said.
He said any money spent on purchasing a new mower could have gone towards resources for the students, such as computers.
"Schools are not well-funded these days, so that extra money will have to come from some other planned expenditure.
"So ultimately, the whole school community misses out," Mr Hullena said.
The school realised yesterday morning that the mower had been taken and reported it to the police.
Mr Hullena said entry into the shed had been forced, causing some damage. It appeared the offenders had attempted to gain entry into a number of other sheds within the school grounds. "It would seem to be organised, in the sense that unless they drove it away they would have had to have towed it away," he said.
Mr Hullena said the mower was essential in maintaining a clean and tidy looking school.
"It is frustrating. We put in a lot of time and effort to make the school an attractive and welcoming place for our kids and our community."
He said the school would appreciate any information regarding the theft.
Acting Sergeant Shayne Nolan said police were yet to determine whether there was any forensic evidence and would be investigating.
Police would be searching for any footprints, fingerprints or DNA left at the scene.
Mr Nolan said it appeared the perpetrators "rode off on the lawnmower".
For more articles from this region, go to Wairarapa Times-Age