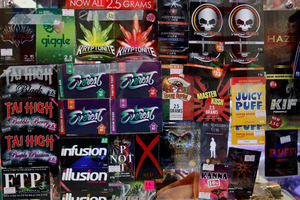 Thousands of dollars a week are being spent on legal highs in Rotorua but dairies and non-specialist shops are on borrowed time.
The Psychoactive Substances Bill has its third and final reading on Thursday and when it comes into force a week later it will be illegal to sell synthetic products in dairies and non-specialist shops.
This comes after retailers in Putaruru joined forces to withdraw legal highs from their community. As from yesterday these products are no longer available in the town.
The Bill, being led by Rotorua MP Todd McClay, also places strict prohibitions on the sale to, possession and consumption by under 18-year-olds.
Skin Graft store manager Joe Hewlett said they had been working with Mr McClay on the Bill and were keen to see stricter conditions on the sale of the products. He said they sold to between 20 and 30 people a day at around $20 a time. They are one of a handful of stores selling synthetic products in Rotorua.
"We're taking it very seriously and we're going to play ball," Mr Hewlett said.
"We don't want to see these products in shops next to bread and milk. I know a lot of people are under the idea that it can be sold to minors but we've always taken the stance that it's an R18 product."
Mr McClay said under the new law businesses would have to apply for a licence to sell synthetic cannabis.
They will have 28 days from the law taking effect to do so. Manufacturers would have to prove their products do not have harmful effects, which Mr Hewlett said would mean the withdrawal from the market of a few products.
There are stiff penalties being put in place with fines of up to $500,000 and two years' imprisonment.
"These drugs are causing considerable concern to parents and increasing levels of harm to those who take them," Mr McClay said.
"I have received an account of a child as young as 11 being admitted to hospital with addiction problems as a result of taking psychoactive substances. The sooner this dangerous muck is out of our dairies and corner stores the better."
He said he had met with Lakes District Health Board staff and heard that people were regularly being admitted to the Emergency Department unable to tell medical staff what substance they had used.
"Lakes has expressed growing concern - the symptoms are pretty frightening. I've had constituents come to me over the last two years with their concerns and now I can do more."
He said the Ministry of Health will soon publish a website with details on how the Bill would affect individuals and businesses.
For more articles from this region, go to Rotorua Daily Post