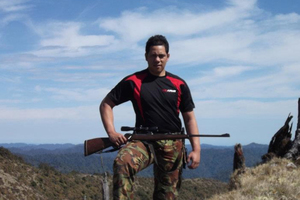 Opotiki's Mayor says he's shocked by a weekend home invasion in his town which ended in a former soldier being shot dead on an Auckland motorway.
Caleb Dean Henry, 20, died after a shootout on the northern motorway with police just after 2am yesterday.
The drama started on Sunday evening, after Henry allegedly forced his way into the home of Opotiki couple Alan Looney, 66, and his wife Anne, 63.
The couple's hands were slashed and they were tied up before their attacker fled in their Ford Ranger with a rifle and a credit card.
Henry had fired shots at police at least three times between the Kaimai Ranges and the northern motorway, where he was stopped by road spikes. He continued to shoot from the vehicle at police, who returned fire. It is not known where Henry was hit, or how many shots police fired.
Opotiki Mayor John Forbes was unaware of such an attack happening within the small community: "I'm sure it's the first - and I hope it's the last."
He said the first reaction was shock and anger, "and the second reaction is why, why does this happen?"
Mr Forbes described the family as "good ordinary Kiwi people" - both Mrs Looney and her daughter had worked in his bank, and the couple held the keys to the Waiotahi district hall.
"They're just the sort of couple that keeps this country ticking, just really awesome people - and why someone has got to get so off the rails that they can go and do what has been done is beyond belief."
Toxicology testing was done during a post mortem examination yesterday to establish whether Henry was under the influence of drugs or alcohol when he died.
Police would not discuss phone calls between Henry and them, but an uncle told the Herald last night that he was talking to police officers as he drove.
William Henry said the family believed Henry was trying to drive to his grandfather's grave in Kaikohe.
"He was going one place and that was home, that's where his grandfather is buried."
Police Minister Anne Tolley said it would take some time for police to say if they shot Henry.
When asked what the directive to police was on shooting to kill or shooting to maim, Mrs Tolley said: "I understand they shoot for the largest part of the body ... this is a most unusual circumstance. They are normally firing in retaliation and therefore they want to take their best chance of saving their lives.
When asked whether the policy should be changed to just shooting to injure, she replied: "Anyone who shoots knows the smaller the target that you aim at, the more chance you have of missing. That could cost the life of an officer or it could cost the life of a member of public if that person isn't maimed.''
Mrs Tolley said that because of the high-powered rifle Henry was armed with, it was a dangerous situation.
"It's always a tragedy when someone loses their life but there was considerable risk to the public and we've had no public injured.
"There was also considerable risk to the police who were fired upon on several occasions and we've had no police injured.
"The outcome is a tragedy when someone loses their life, but it could have been so much worse.''