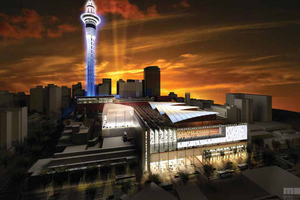 Gambling harm as a result of concessions set to be made law in the controversial deal between SkyCity and the Government could include family violence and suicide, a regulatory impact statement has found.
The Ministry of Business, Innovation and Employment-compiled regulatory impact statement, released yesterday, showed harm as a result of 230 new pokie machines and 52 tables could include relationship breakdowns, depression, suicide, family violence, increased money laundering, job losses and financial problems.
Concessions for Sky City include 230 new pokie machines and another 52 gaming tables.
SkyCity would also be granted a 35-year extension to its licence but it has agreed to additional gambling harm reduction measures.
The concessions are worth up to $527 million over the lifetime of the deal, according to analysts' estimates.
The regulatory impact statement said there was no reliable way to quantify or put a cost on the potential harmful effects of the changes being proposed in the SkyCity convention centre deal.
The additional numbers of people estimated to experience problems as a result of their own gambling were not known, but several estimates were made in the report.
It said recent analysis found an average increase of 0.8 per cent of problem gamblers for each new gaming machine - 184 new problem gamblers.
Another estimate was made based on an 8.1 per cent increase in the number of pokie machines and a 20 per cent increase in the number of gaming tables.
"If this increase led to a corresponding increase in the number of people experiencing problems as a result of someone else's gambling it is possible to hypothesise that an additional 4779 people may be at least party affected by casino machines and an additional 3600 by tables."
A cabinet paper also released showed The New Zealand International Convention Centre Bill introduced to Parliament yesterday, which legislates for the concessions, could lead to increased problem gambling.
The National-led Government has locked future governments into the deal by stating compensation would need to be paid to SkyCity if the deal was ditched.
Compensation would cover the concessions lost over the 35-year time period, but would not exceed the total cost of the International Convention Centre (land and building).
Greens' co-leader Metiria Turei said MPs needed to make a conscience decision when deciding whether to vote for the legislation.
"I can't think of another piece of legislation that causes so many known harms yet delivers so few benefits."
- APNZ