Sir Peter Blake award comes as athlete focuses on giving back to the community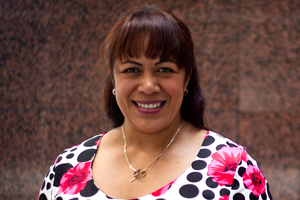 Being able to give back to the community that supported her practically her whole life was an opportunity Beatrice Faumuina could not pass up.
The 38-year-old is well known for her many titles; including world champion, world cup champion, Olympian and Commonwealth discus champion, record holder and Halberg Award winner.
At the weekend she picked up another title as a Blake Leader recipient in this year's Sir Peter Blake Leadership Awards.
Faumuina was recognised for a number of leadership roles she has, including one she took up just three years ago as the chief executive for the Best Pasifika Leadership Academy and Charitable Foundation.
She was approached to take up the newly established role in 2010 by a founding partner of the academy, lawyer Mai Chen, she said.
"She called me with the idea to develop a Pasifika leadership programme to build Pasifika leaders for Aotearoa.
"This sounded like a great idea to me. It was about applying family values, lessons and experience learned into business to create a new learning environment.
"It also appealed to me because there was a chance to give back. After all that I've been blessed with, I loved the idea of giving back to the community."
It was then that she decided to put preparations for a fifth Olympic Games in London on the backburner, to focus on the new venture.
The academy is based on the idea of lifting Pasifika people's incomes and living standards by getting more of them involved in businesses and organisations.
The students learn about self purpose, leadership styles, delivery, understanding of strategy and how to act with bosses.
Faumuina, who is Samoan, said breaking down certain cultural habits among Pasifika students was something she had worked hard on.
"There's a phrase I use often: 'Get comfortable with the unknown, then and only then will you be able to fulfil your true potential'. I've lived a life where I've had many blessings. It excites me, but it also scares me in a way."
Faumuina was honoured to have been included in this year's Sir Peter Blake Awards.
"I know what these awards mean and I know what they mean to New Zealanders."

Blake Leaders
This week, the Herald profiles this year's six Blake Leaders.
Tomorrow: Flaxmere College principal Louise Anaru