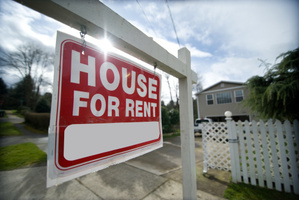 Auckland's rental properties remain the most expensive in the country but Christchurch is close behind, new figures show.
The average weekly rent in Auckland was $494 in the past quarter, according to Trade Me Property, followed by Canterbury at $480 and Wellington at $408.
Head of Trade Me Property, Brendon Skipper said tenants in Christchurch were facing asking rents which were 22 per cent higher than a year ago - well above the national rise of just three per cent.
"This echoes the 24 per cent year-on-year increase we saw last quarter," Mr Skipper said.
Average asking rents across the country rose by an average of $6 to reach $417 per week, the report showed.
Mr Skipper said there had been talk of a rental shortage, but it was not as dire as suggested.
The availability of rental properties and tenant enquiry levels nationwide were up just two per cent on a year ago.
Meanwhile, Auckland's cheapest Trade Me rental in the last quarter was listed at $130 a week, compared to a national low of $45.
The fully-furnished one-bedroom Mt Albert property had its own cooking facilities, however the bathroom was shared, listing agent Lincoln Wu said.
The self-contained studio had been occupied by a Unitec student who was "very happy" with it.
The cheapest rental listed nationwide was a two bedroom property in Ohakune for $45 a week.
Ray White business development executive Zac Snelling said it would be hard to find a carpark in Auckland for less than $50.
The cost of rentals in Auckland's most expensive suburbs on the city's fringe did not tend to change, Mr Snelling said.
"It flows on from the sales prices generally; if you've got a suburb with a higher than average sales price then you would typically expect to see a higher than average rental price as well.
"Areas such as Ellerslie, Mt Wellington, Mt Albert - where you're seeing a lot of gentrification and improvement to public transport and roading and public services - that's where you're seeing large increases because people are finding it easier to live there."
Demand for rentals may have been up slightly nationwide, however that was not the case in central Auckland where demand was down 13 per cent on the same time last year. Average cost of rent in the city was also down three per cent while supply increased by four per cent.
Due to a mid-winter slump there was a large number of rentals in Auckland which were harder to let, Mr Snelling said.
However, the overall trend was for rental prices to increase until Auckland housing stock levels grew.
The single most expensive rental listed on Trade Me during the April to June quarter was a house in Takapuna available for $5000 per week.
Greatest demand increases were seen in Remuera (up 15 per cent) followed by Mt Eden (eight per cent).
Other national trends showed Palmerston North and Wellington were challenging for prospective tenants due to tight supply and a competitive market.
Christchurch had continued double-digit growth in the level of enquiries from prospective tenants, and was still the strongest of any region.
.
By the numbers
* $45 a week - cheapest rental in the country (Ohakune)
* $5000 a week - most expensive rental in the country (Takapuna)
* $494 - average weekly rent in Auckland
* $417 per week - average rent nationwide
* $6 - national average rent increase
.
Supply Average rent Demand
Auckland central up 4 per cent down 3 per cent down 13 per cent
Mt Eden up 19 per cent up 6 per cent up 8 per cent
Remuera up 10 per cent down 3 per cent up 15 per cent
Mt Wellington up 24 per cent up 6 per cent up 4 per cent
Epsom down 14 per cent down 5 per cent down 11 per cent
Manukau up 14 per cent up 3 per cent down 2 per cent
North Shore up 18 per cent no change down 8 per cent
Waitakere up 13 per cent up 4 per cent down 6 per cent
Auckland (overall) up 5 per cent down 1 per cent down 2 per cent
Hamilton up 4 per cent up 3 per cent down 1 per cent
Source: Trade Me