Attackers' rampage leaves trail of damaged and destroyed headstones in historic Symonds St cemetery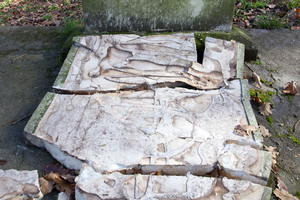 Vandals have knocked over and smashed historic gravestones in inner-city Auckland.
Eleven gravestones in the Symonds St cemetery were damaged in the attack, which was reported yesterday morning.
It is not known when it occurred.
Tony Vujnovich, who lives nearby, discovered the damage when walking his dog on the Karangahape Rd side of the cemetery.
He often picks up glass bottles from the area, and took photographs of beer bottles scattered around the damaged headstones yesterday.
"It's horrible. Nothing is sacred ... the headstones there date back to the mid-1800s, and they've just been smashed ... it is part of our history, these people were the founding people of Auckland City."
Mr Vujnovich suspected some of the gravestones bore children's names, but the Auckland Council could not confirm this yesterday.
"Some of these have been totally destroyed. They are hard enough to read now, the old ones, but when you smash them, you can't read who was there, you can't tell who the person was.
"That's their lot gone ..."
Graffiti sprayed on more than 20 Jewish graves in the cemetery last year is still visible, but the graves targeted in the latest attack were not in the Jewish quarter.
The Auckland Council team leader for parks liaison and development, Lynda Lucas, said the damaged graves were in the Presbyterian and Anglican sections of the cemetery, which opened in 1842.
"These headstones appear to have been kicked or pushed over, causing breakages.
"This is very disappointing and appears to be a random attack.
"We believe the damage was done some time in the past 10 days. The council has informed police. We have very little information about when this vandalism was carried out or who might have done it."
Ms Lucas said the conservator the council uses for inspection and restoration work in the cemetery was on leave, but a report would be commissioned recommending repair.
"It is important to note that there are many headstones and graves within this historic cemetery that have become damaged or worn over time or have been carefully laid down," she said.
The Waitemata Local Board has identified the upgrade and restoration of the Symonds St cemetery as a priority project, and funding has been allocated in the Auckland Council's long term plan.