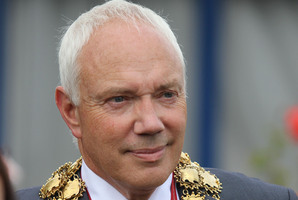 Student superhero Flatman, a cocker spaniel called Prince and disgraced former MP Aaron Gilmore are being talked about as potential mayoral candidates in post-quake Christchurch.
Speculation is swirling around the city in the wake of incumbent mayor Bob Parker's shock announcement on Friday that he will not contest October's election.
Christchurch East Labour MP Lianne Dalziel last month announced she would quit Parliament to take a shot at the top job.
But amidst mounting criticism of the city council, especially its troubled building consents department, Mr Parker made it a one-horse race.
The only other confirmed candidate is former deputy leader of the Aotearoa Legalise Cannabis Party, independent Blair Anderson.
Rumours are abound over who else - if anyone - will step up.
Anglican priest Peter Beck, dean of Christ Church Cathedral until he stood down in December 2011 to become a councillor, has ruled himself out.
So have former mayors Vicki Buck and Garry Moore, as well as long-serving left-wing politician Jim Anderton.
All three are backing 52-year-old Ms Dalziel.
"If I stood against Lianne Dalziel, it would only split the vote on the left, which would be stupid. I haven't spent 47 years of my life in politics to be stupid," Mr Anderton said.
Political contests always benefited from genuine opposition, he said, but thought it was too late for a credible centre-right candidate to launch a successful campaign.
Ms Buck agreed, and wondered if anyone would emerge to make a late run.
Councillors Tim Carter, Jamie Gough and Sue Wells have all been mentioned as possible candidates without making any firm moves, while Student Volunteer Army founder Sam Johnson reportedly turned down an offer from Ms Dalziel to be her running mate.
Deputy mayor Ngaire Button, along with caped crusader Flatman and former National backbencher Mr Gilmore, look the most likely to throw their hats into the ring.
Ms Button said she would consider her options "over the next week or so."
"It's too early to make a decision like that. Bob only announced he wasn't standing on Friday. Out of respect to him there needs to be some breathing space."
Ms Button, who's been one of Mr Parker's closest allies during the tumultuous period of post-quake politics, was stunned by his decision.
"I had no idea," adding that it was a "disappointing and sad" move.
"History will show Bob has been one of our greatest mayors who has done great service to the city. It's a real shame."
However, she said she would have liked more time to gauge whether she had a shot at winning an election.
"It would have been good to see some polls. Whether the people would want me or not, I don't know. The balls are up in the air."
The mysterious Flatman, who has grown a strong following for his own brand of disaster relief - by delivering food parcels under the cloak of darkness to those most in need - announced his intentions today.
"I'm keen to step up if the support is there," he told APNZ.
"It would be good to be the first superhero elected mayor. It would be like when Bruce Wayne became Mayor of Gotham City, even though that was just for a day."
Mr Gilmore today declined to speak about murmurs he may stand.
"I have a principle that I don't talk to APN or Fairfax given lies printed on me."
When pressed to confirm or deny, he said: "I'm not making any further comment."
The K9 contender launched his campaign on his Prince for Mayor of Christchurch Facebook page.
"By supporting me, you're supporting the underdog," he is quoted as saying.
"By voting for Prince, you're voting for old fashioned values, sniffing out any problems you may have."
- APNZ