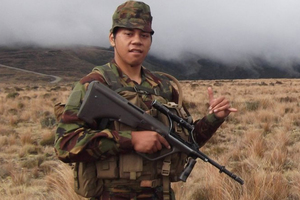 Do you know more? Send your story, photos or video here.
The man shot dead on Auckland's northern motorway this morning was Caleb Dean Henry, a former soldier discharged last year.
Police identified him earlier today and have advised his family of his death.
Mr Henry, 20, was living in Opotiki. It is not clear why he fled police, or where he was heading.
The Herald can reveal Henry served as a soldier but was discharged from the army for "disciplinary reasons" in July last year.
A spokesman for the army would not be drawn on any further details of Henry's service.
But the 20-year-old posted many photos and comments on his social networking profiles about the firearms he was using.
"Firearms can be the cause of many deaths, but ask yourself is it the firearm or is it the person using it?" he wrote on his own Bebo page.
Henry fled the scene of a violent home invasion in Opotiki at 7.30pm yesterday, repeatedly evading police in a stolen Ford Ranger ute as he made his way north.
Shots were fired from the vehicle at police in Waikato, on Auckland's Southern Motorway and in the Victoria Park tunnel in central Auckland.
Police closed all petrol stations between the Kaimai Range and Auckland, and turned traffic lights green during the pursuit, in a bid to keep the public safe as they dealt with the situation.
After the ute was stopped using road spikes, Mr Henry exchanged shots with police on the Northern Motorway between Tristram Ave and Constellation Drive.
Henry was seriously wounded and despite attempts by police to resuscitate him, he died.
A post mortem was held this afternoon. The Herald has learned he was not carrying identification with him. Henry was still in the ute when he was shot.
"... we are saddened that this has ended in tragedy", said Assistant Police Commissioner Alan Boreham.
"Police's first priority in any incident is to ensure the public and our officers are kept safe. We also have two victims who have been left hurt and traumatised, but are relieved that no one else was injured during this fast-moving, dangerous and unpredictable situation," Mr Boreham added.
It is understood Opotiki couple Alan and Anne Looney, both in their 60s, were tied up and suffered injuries during the attack in their home.
As well as their ute, Henry took a high-powered rifle and credit cards from their home.
They are in a stable condition in Whakatane Hospital.
A relative said family were shocked by the incident. The couple have farmed near Opotiki all their lives.
"Understandably both victims are in shock after this violent home invasion and police family liaison officers, Victim Support and the family are continuing to support them as they recover from their ordeal," said Mr Boreham.
"The man and woman suffered deep cuts to their hands during the incident.... The pair are expected to undergo minor surgery for their injuries later today, but these are not life-threatening."
The northern motorway near Sunset Road on the North Shore remained screened off as police continued to examine the scene, and police were asking motorists heading south into the city to not slow down while passing the scene.
Police wanted to speak to anyone who may have seen the stolen Ford Ranger as it travelled from the Bay of Plenty to Auckland overnight.