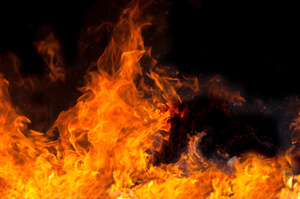 For Hawkes Bay woman Alicia Buxton, some of her most precious possessions were the little boxes of "firsts".
"All the kids had little boxes with their first toys, first shoes, their baby pictures," she said, adding that she figured they would be safer in the secure garage at the family's Westshore home if ever there was anything like a fire.
On Saturday night there was a fire and she lost her precious "firsts".
The blaze broke out in the garage - gutting it after what a fire service assessor believed may have been a wiring fault.
"We lost them but the most valuable things we've got are safe - the children," Alica said yesterday as she and husband Warren returned to see what they could recover from the fire-ravaged building.
While furniture and most items in the house were okay apart form some smoke and water damage, nothing in the garage could be saved.
Two vehicles had been inside along with boxes of stored property.
"We were planning on moving soon," Mr Buxton said. "So we had a lot of stuff packed in there."
Among the things were scooters and toys belonging to their seven children.
The fire broke out about 6.30pm while they were all inside having tea.
"We just grabbed the children and got out of there," Mrs Buxton said, adding that by the time they got across the road the fire had jumped the metre gap to the corner of the house and quickly taken hold.
Flames got into the ceiling and spread into the laundry and kitchen.
"It was so quick."
She said yesterday that had the fire broken out five hours later when they were all in bed it could have been a tragedy.
"I hate to think what might have happened because the fire moved so fast."
However, Mr Buxton had put smoke alarms in the rented house.
Three fire appliances and a dozen crew responded and spent more than two hours at the scene.
There was considerable water and smoke damage throughout the house.
The couple have insurance. Family, friends and neighbours had all pitched in to help them also.
For more articles from this region, go to Hawkes Bay Today