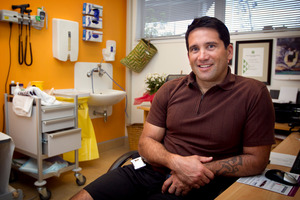 Northland doctor Lance O'Sullivan says his upbringing helped drive his efforts to lift the quality of healthcare for Maori.
Dr O'Sullivan is among six New Zealanders named as Blake Leaders in this year's Sir Peter Blake Leadership Awards.
The GP has worked to help communities in Northland, mainly in Kaitaia where he and his wife Tracey have set up a low-cost clinic, Te Kohanga Whakaora.
Dr O'Sullivan said he believed in quality healthcare for all.
"It's come from my upbringing and my solo mum and seeing what she had to go through. We don't come from a lot of wealth. My mum, who is a Pakeha, was a cleaner and my dad worked in the freezing works.
"I'm a young Maori dad now and I have a skill - as a doctor - that is very much needed in this community. I'm really honoured to be here doing what I do."
The 41-year-old grew up in Auckland and is a former pupil of Hato Petera College on the North Shore.
He decided to move his family north with the hope of helping Maori and was instrumental in the establishment of the Manawa Ora Korokoro Ora (Moko) programme.
Based at Kaitaia Primary School, the initiative aims to give medical care to up to 2000 children at 14 primary and intermediate schools.
Another programme he set up - Kainga Ora - focuses on fixing cold, run-down homes to make sure all children in the community grow up in a warm and healthy environment.
Dr O'Sullivan is also passionate about men's health and is well-known for his messages to get Maori men out exercising.
"I'm not trying to make it sound like a cliche, but it's about helping my people - Maori, children who are vulnerable and mums and dads who are struggling.
"It's about helping those people."
He said leadership was not necessarily about being the person at the front of a campaign.
"It's not always about the glory. It's about responsibility and it can also be a burden."
Dr O'Sullivan said he had always remembered Sir Peter's integrity and humility.
"As a leader, you have to stand by your decisions and I think Sir Peter always did that."
Blake Leaders
This week the Herald will profile each of the six new Blake Leaders winners.
Tomorrow: Beatrice Faumuina