Our columnist continues his intrepid climb of Kilimanjaro.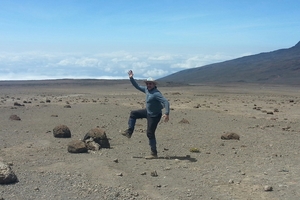 Day 3
Today was one of the hardest slogs I've had to do in my life. I've had a sore throat and a cough since the beginning of this expedition but today with the increased altitude I found it quite hard to breathe.
I fell behind in the pace and it was evident that I was working much harder than everybody else just to keep up. I could feel the coldness in my throat every time I took a breath and this was coupled with a tightness in my chest. After lunch at around the 4000m mark I had to stop.
Joffrey the guide took my pack and decreased the pace considerably so I could make it. I also received sweets, chocolates and a special energy gel from Mahe the Olympian. With no pack and the slower pace I found it easier and managed to "keep on truckin".
Very rocky and barren landscape made for dull views although we did come across a chameleon, my favourite lizard. I held it up for all to see. It was only a small one but thanks to my keen interest in animals, this little fella lifted my spirits immensely.
As the light began to fade we arrived at Mawenzi Tarn (4302m) a small glacial lake surrounded by rocky cliffs. This would be our camp for two nights. There were several other groups staying there too. It felt a bit like Glastonbury but without the music.
Day 4
I decided to rest today because last night I suffered from a fever. I believe this was brought on by a touch of heat stroke during the day's hike. All drugged up I feel much better. Up here it's like living on a weird rock planet in another world. Not much to see but giant buzzards fighting over scraps of food. Looking down over the cliffs beyond the loos we can see a blanket of clouds below. Beneath the clouds is Earth. I remember it well. I miss it.
Day 5
This was my favourite day. I was feeling a bit better after some rest and the walk was easy. We backtracked up some rocky crevices and descended into the saddle between Mawenzi and Kibo. Through my monocular I could see the huts in the distance, our destination for today (4714m) and the base for the final push. The saddle landscape looked exactly like the photos Nasa's Curiosity Rover has been sending back of Mars. If ever there was a place to shoot a sci-fi movie, this would be it. Later we came across the wreckage of a small aircraft. Apparently it had crashed a few years ago killing the photo-journalists onboard. Only the pilot survived. It was a very sobering sight indeed. When we stopped for lunch Kerre McIvor took a photo of me dancing on Mars.
* Next week ... the final push.