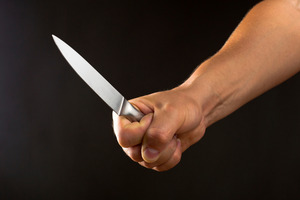 A man was holding a knife to a woman's throat when his attack was interrupted by her 12-year-old child, police say.
Acting Senior Sergeant Nathan White said the 27-year-old woman was cut on her neck and had to have stitches as a result of the incident about 11.30pm on Brooklyn Street in Dunedin.
The woman and a 44-year-old man had been involved in an argument which turned physical.
"He has held a knife to her throat, indicating that he was going to kill her," Mr White said.
"He was holding her down on the ground but as he was a child has come in and interrupted what's going on and that's been enough for him to clear off."
The man discarded the knife and fled the scene and was yet to be found by police.
Mr White said the incident was concerning.
"Any incident of family violence is concerning but much more so when somebody's taken a weapon, a knife in this case, and injured the other party. Huge potential to go wrong."
The child was being offered appropriate support, he said.
"It's very unfortunate for the 12-year-old. It's a horrible thing for any child to see."
- APNZ