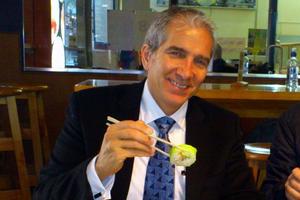 Forget kissing babies - one Supercity mayoral contender is selling sushi while waiting for voters to make up their minds.
Auckland mayoral candidate John Palino has popped up on radio ads supporting a sushi business. Further, the convenience food firm has posted a Facebook picture of the mayoral wannabe chowing down with a big grin.
Palino said he recorded the radio ads as a favour to St Pierre's owners the Katsoulis family and was not paid. He would not ask for them to be taken off the air.
"They're good friends of mine, that's why I did it ... I've spoken to lawyers ... my experts say it's fine.
"We all have jobs before we're running as a candidate so those jobs have a certain amount of publicity. I was an actor and I was a restaurateur. My name can still be out there in magazines about restaurants."
One ad was recorded in January or February, before he announced his candidacy, while a second was more recent because it was about St Pierre's Sushi's support of the Lifewise Big Sleepout on Thursday, which Palino took part in.
He said he ate at St Pierre's about three times a week. The host of reality TV show The Kitchen Job and a professional actor from the age of 13, Palino said he had turned down other offers, including one from the makers of Shortland St three weeks ago.
Auckland electoral officer Bruce Thomas said there had been no complaints about the ads
and as long as Palino did not mention he was running for mayor in the ads he should be okay. "There's been issues in the past but it's more with central government candidates where they host radio shows. There's a subtlety in it."
Meanwhile, incumbent Christchurch Mayor Bob Parker withdrew from a re-election bid this week, a decision his main opponent Lianne Dalziel described as "sad".