British man, who escaped UK jail after stabbing his aunt 70 times, has been living in NZ, where he stole a disabled man's identity.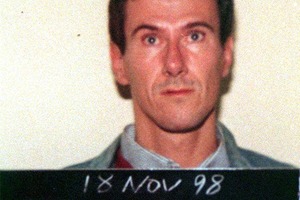 Do you have any information on Simon Hennessey? Email newsdesk@nzherald.co.nz
Don Jeffery didn't think things could get worse for his son Robert after a 2005 car crash left him severely brain-damaged.
Robert Eric Jeffery, now 44, nearly died when he was thrown from his light truck in a head-on collision with a car in Hastings.
He now needs around-the-clock care.
But Don Jeffery has a new fight on his hands, trying to find out how an Englishman with a manslaughter conviction, and on the run after escaping jail in Britain 15 years ago, was able to get a passport in his son's name.
The identity theft was uncovered when Simon Hennessey, 49, travelled to Australia and was arrested for credit card skimming recently. He was travelling on a passport under the name Robert Eric Jeffery.
Hennessey was aged 14 in 1978, when he stabbed his 72-year-old aunt, Mary Webber, 70 times. He escaped from a Gloucestershire prison in 1998 and somehow got into New Zealand.
Investigations since his arrest on the Sunshine Coast even led police to believe he had a wife here.
But Don Jeffery has no idea how it could have happened. He's been racking his brains to work out how Hennessey stole his son's information.
Don Jeffery said the Department of Internal Affairs' passport office had alerted him to the fraud, and police had been in touch.
"Rob had nothing to do with it (obtaining the passport). It's happened and we can't do anything about it, we just have to let the law take its course - but we'd love to know where he got the details from and how easy it is to do."
He wondered whether the arrested man might be linked to a caregiver or somebody who had come into close contact with Robert since his accident and knew his son was powerless to complain.
Don Jeffery didn't recognise Hennessey from his police mug shot.
Robert has never had a passport. He lived in a home for brain-damaged. "It's like he's had a stroke," Don said of Robert. "His right arm is virtually useless, he can't use his hand properly."
His short-term memory was poor, and he had trouble remembering his own children.
New Zealand police have seized and are analysing electronic items from a Hastings property linked to Hennessey.
Spokesman Grant Ogilvie said police were aware of a person who entered New Zealand on a false UK passport and fraudulently obtained a New Zealand passport.
He would not give the name Hennessey entered the country under, but UK media reported he used the alias Neil Docking.
Ogilvie said police were looking at associates who may have assisted him and whether offences were committed in New Zealand.
Australian Detective Senior Sergeant Daren Edwards, of the Sunshine Coast CIB, confirmed Hennessey entered Australia on a passport in Robert Jeffery's name.
He would travel to the Gold and Sunshine Coasts every three to six months.
"If you passed him in the street you wouldn't look twice at him. He's a very placid person."
He was initially charged as Robert Jeffery, but then admitted his true identity. He spoke with a "slight English accent".
"He told us he had to lead that lifestyle because if he got a legitimate job he couldn't do tax returns. He'd been travelling to Thailand as well."
Edwards suspected Hennessey had a partner or wife in New Zealand.
Hennessey had a van in Queensland fitted with computers and skimming equipment.
Working with a Brisbane accomplice, he'd pose as a courier driver and charge customers for products such as coffee or courier fees. They would "skim" or copy the person's bank details and steal money from their accounts.
If convicted, Hennessey faces prison in Australia or deportation to the UK.
When he was arrested in 1978, he was described as long-haired and a "John Lennon look-alike".
He reportedly had epilepsy and pleaded guilty to manslaughter on grounds of diminished responsibility.

• Do you recognise Simon Hennessey? Email: kathryn.powley@hos.co.nz.