Fifty years after his famous victory in the British Open, golfer Sir Bob Charles will still go to the ends of the earth to see his daughter, Beverly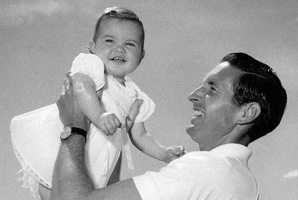 It takes a special person to be carted all around the world and still look as happy as little Beverly Charles.
Being the daughter of Bob Charles, the man who was one of the world's best golfers, meant jetting from tournament to tournament, country to country.
In January 1967, Beverly Charles was just a month away from celebrating her 1st birthday but was yet to meet her grandparents on her father's side.
Born in Johannesburg (her mum Verity's home city), the Charles family hadn't been back to Sir Bob's homeland of New Zealand since.
So Beverly's parents scheduled her christening in Christchurch, where Sir Bob's parents lived.
The photo was taken on the afternoon of Beverly's christening at Phyllis and Ivor Charles' Christchurch home.
They were ecstatic to meet her, Lady Verity says. "He's an only child so it was their first grandchild.
"It was all very exciting; it was very lovely for them to finally meet her."
But it was a flying visit. Just three years after his historic British Open victory - he was the first golfer to win a Major playing left-handed - Sir Bob's schedule was packed full of tournaments.
"He was competing full time then, playing on the US PGA tour as well as an awful lot of tournaments in New Zealand supporting the local circuit," says Lady Verity.
"In those days there were a lot of tournaments in New Zealand, not just the one or two like today."
These days, the Charles family are still big travellers. Sir Bob says he escapes winter in New Zealand by going overseas. He and Lady Verity have been to Britain for the 50th anniversary of his historic win, as well as celebrating their 50th wedding anniversary - and visiting their daughter. Beverly is now in her 40s and lives in Britain with her husband.
Sir Bob and Lady Verity Charles headed to Rome yesterday morning.
"I'm an outdoor and summer person," says Sir Bob. "I hate winter, it's all short days and long nights. When I come over here (Britain) in the winter, it means I can still get outdoors and enjoy my golf and other activities."