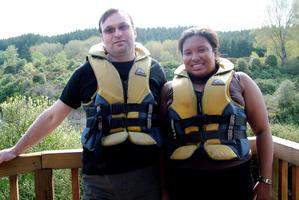 The death of a New Zealand-based doctor while diving in Vanuatu is to be investigated by a Government-appointed commission of inquiry, following revelations in the Herald on Sunday.
Laila Osunsade, 33, died while diving on the wreck of the SS President Coolidge off the island of Espiritu Santo on May 2.
An autopsy in Vanuatu was inconclusive and Vanuatu police closed their investigation. Results of a second autopsy in New Zealand have not yet been released but Osunsade's husband, Damien Healy, dive experts and a dive tour leader have questioned aspects of dive company Aquamarine Santo's operation.
Their concerns were reported by the Herald on Sunday and Vanuatu Scuba Operators' Association president Owen Drew said his group sought the inquiry.
Divers Alert Network Asia-Pacific principal investigator John Lippman said the organisation investigated about 30 diving deaths in the region a year.
"Hopefully this will cut through the rumours and bring out the facts."
Damien Healy told the Herald on Sunday that Aquamarine also informed his wife the company was affiliated with global diving instructors' association Padi. The claim remained on the company's website this week.
But Padi Asia Pacific membership manager Mark Cummins said Aquamarine Santo was not a member.
"I would never have allowed her to go on an unregulated dive in Vanuatu," Healy said.
Australian dive expert Michael McFadyen - asked by Healy to investigate Osunsade's death - said videos and a print-out of Osunsade's dive computer from a dive two days before her death showed she was a "poor diver" who consumed air at a high rate - something that could have caused her to pass out.
Based on the air left in her tank, he believed she died earlier than was reported.
"I have serious concerns."
Aquamarine previously said Osunsade died after she swam back to the wreck while ascending.
Dive tour leader John Gransbury, who dived with Laila on the day she died, asked for new air because Aquamarine's "tasted bad". Osunsade did not receive new air.
Aquamarine managing director Rehan Sayed did not know about the latest investigation and said the company was not claiming to be Padi-affiliated. "It seems the link was still active to that page even though you can no longer click through. We'll get that sorted immediately."
He would not comment on McFadyen's concerns. "I think it is irresponsible to make assumptions [and] irresponsible to comment on an ongoing investigation."