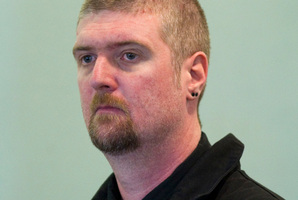 John Skinner was protecting a cache of chemicals and drug equipment when he shot dead undercover police officer Don Wilkinson, court documents reveal.
The P cook also had pseudoephedrine stashed in a bank deposit box in downtown Auckland and a lock-up full of chemicals and drug-making equipment.
Details of Skinner's drug operation can be revealed for the first time after he was sentenced yesterday to three more years in prison for possession of chemicals, material and equipment to make methamphetamine.
Skinner had caught the attention of police in 2008 and he was the subject of an undercover operation when, in the early hours of September 11, two undercover police officers crept down the driveway of his home in Mangere.
Sergeant Wilkinson and his colleague, known as Officer M, were on a covert mission to bug Skinner's car.
But while attaching the device, they were spotted on Skinner's CCTV camera and security lights went on, lighting up the driveway.
Skinner and his friend Iain Lindsay Clegg came out and chased the pair in their car down the street before catching up with them. Skinner shot both officers, fatally shooting Mr Wilkinson and wounding Officer M.
Skinner is serving a sentence of life in prison with a minimum non-parole period of 15 years for the murder of Mr Wilkinson and the attempted murder of Officer M.
Court documents show what it was Skinner was trying to protect.
In the aftermath of Mr Wilkinson's murder, police raided three properties associated with Skinner's P enterprise. They found a significant commercial operation.
Inside his house, they discovered a variety of chemicals used to make the class-A drug.
They also found equipment including flasks and a steam distiller.
Police also executed a search warrant at Skinner's lock-up at Storage King in Onehunga after an undercover police operation caught him removing chemicals and an extractor fan.
Inside, police found hundreds of cold-medicine pills containing pseudoephedrine, a chemical used to make methamphetamine.
They also found other chemicals and equipment including a burner, glass canisters and a parr bomb - used to make P.
Skinner went to great lengths to hide his drug operation and even used an ASB safe deposit box in Auckland's Albert St - a stone's throw from the Auckland District Court, where he was sentenced yesterday.
There police found more than 1.3kg of pseudoephedrine.
According to the Crown, that stash alone could have been used to make between 270g and 405g of methamphetamine.
That amount of methamphetamine could fetch between $73,000 and $142,000 on the streets of New Zealand.
Yesterday, at Skinner's sentencing, Crown prosecutor Scott McColgan acknowledged that the drug offending would not have increased his jail sentence for murder.
He called it an "academic exercise" but said it was important that Skinner be sentenced nonetheless.
He also pointed out in submissions that Skinner had been sentenced for manufacturing methamphetamine before.
Judge David Harvey said he could not increase Skinner's sentence because he was already serving life in prison for murder.
He sentenced Skinner to three years in prison to be served at the same time as his sentence for murder.
That means Skinner will serve no extra jail time. He will not be eligible for parole until 2023.
- APNZ