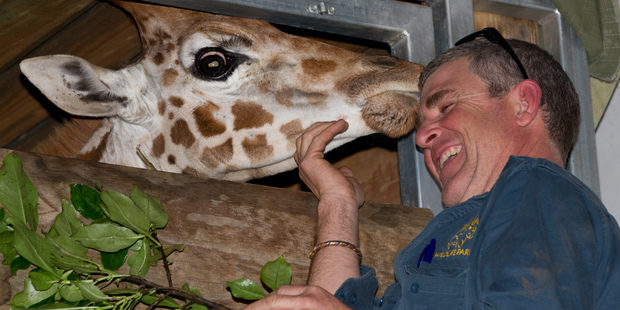 High winds proved no tall order as Fanana the giraffe safely completed an epic journey from Sydney to Christchurch this morning.
The 9-month-old, 2.6m tall giraffe travelled by plane, ferry and truck during the 24-hour, 3000km journey to Orana Wildlife Park in Christchurch.
Orana spokesman Nathan Hawke said Fanana had a smooth sailing on the Interislander ferry from Wellington to Picton this morning.
The next challenge came from high winds as he was transported by truck to Christchurch.
"It was a little bit windy after Kaikoura but he travelled really well."
Fanana's keepers were able to monitor him while he was in the truck, provided by horticulture company Zealandia, thanks to a camera which peered into his crate.
"They said he was pretty relaxed through the whole way, which was really good."
The giraffe, born at Taronga Western Plains Zoo in Sydney, will remain in quarantine for 30 days before the public can catch a glimpse of him.
Mr Hawke said Fanana's relaxed nature meant it was hoped there would be no problems slowly introducing him into the herd.
He will become the herd's new breeding bull after his predecessor, Harold, died last year.
Fanana left Auckland yesterday after being transported from Sydney by air.
Giraffes are normally taken by sea, but Fanana was able to be taken by air because his 2.9m crate - only 30cm taller than the giraffe - just scraped in at the maximum height to fit in an aircraft.
Weeks of preparation had gone into organising Fanana's transfer, including training the giraffe to be in the crate without stress, organising trucks and transport assistance and liaising with the various organisations involved.
- APNZ