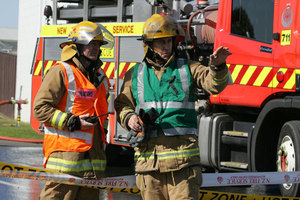 Fire safety officers are investigating the cause of a Dunedin house fire in which a dog died yesterday.
A Lookout Point fire crew was first called to the burning Abbotsford home at 5.40pm and was assisted by firefighters from the Central Dunedin and Roslyn stations.
Officer in charge Murray Little, of Lookout Point, said the rear of the house was "well involved" when firefighters arrived.
"Fortunately, we were able to contain the fire. It didn't spread any further once we arrived."
The occupants were not at home when the fire started, but returned to discover their pet dog had died in the blaze.
Firefighters removed two 9kg lpg gas cylinders from the home and cooled them down before dampening down other hot spots in the house.
Mr Little said it was not yet known how the fire started.